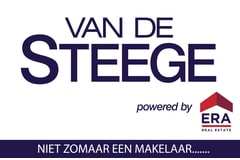 ERA Van De Steege
Niet zomaar een makelaar!
About us
Van de Steege Makelaars Groep
ERA Van de Steege is de handelsnaam van de makelaarskantoren in en direct rondom Amsterdam, die zich bezig houden met verkoop van bestaand bezit van zowel particuliere als professionele opdrachtgevers. Daarnaast bestaat de Groep uit de specialismen nieuwbouw, bedrijfsmatig onroerend goed (G7 Bedrijfsmakelaars) en Verhuur, van waaruit bestaande en nieuwbouwwoningen worden verhuurd in de vrije sector. Het geheel wordt ondersteund door een facilitair bedrijf en een managementteam. Het facilitaire bedrijf bestaat uit ERA Van De Steege Marketing Services, ERA Van De Steege Automatisering, ERA Van De Steege Taxateurs, ERA Van De Steege Inkoop en het ERA Van De Steege Management. Dit facilitaire bedrijf ondersteund de makelaar bij zijn werkzaamheden, zodat die makelaar zich volledig kan richten op de klant en het pand. Ook de eigen servicebus met een eigen medewerker ondersteund diezelfde makelaars.
ERA Van De Steege heeft een even simpele als effectieve filosofie; uw contact loopt via één persoon. De advisering bij aankoop en verkoop van een huis of van een bedrijfspand is immers niet iets wat op een "ambachtelijke" manier kan. Tenminste niet als je het goed wilt doen. En dat willen en doen wij inmiddels al ruim 40 jaar. De klant is Koning en wij zijn ons er terdege van bewust dat we met veelal honderdduizenden euro's van onze opdrachtgevers omgaan.

Kortom, als u met ERA Van De Steege te maken heeft, heeft u te maken met een groot denkende, maar persoonlijk optredende makelaar. Bovendien worden de ca 50 specialisten op hun beurt gesteund door de wereldomvattende makelaarsorganisatie ERA en is de ERA Van De Steege lid van de Nederlandse Vereniging van Makelaars o.g. en de Makelaars Vereniging Amsterdam.

ERA Van De Steege biedt meer dan 50 unieke services en producten, naast de "standaard" dienstverlening.

ERA Van De Steege heeft zich steeds verder in de aankoop van woningen gespecialiseerd. Omdat de klant al veel informatie zelf kan verschaffen, zijn wij overgegaan op zogenaamde deeldiensten bij aankoop van een woning. Voor de voorwaarden verwijzen wij u naar onze tarieven en voorwaarden welke u bij onze kantoren kunt opvragen.

Wij blijven voortdurend zoeken naar verbeteringen en nieuwe, meer klantvriendelijke hulpmiddelen met behulp van het internet. Zo hebben wij ons klantenintranet, waarin onze opdrachtgevers de voortgang rondom de verkoop kunnen volgen. Ook kan de opdrachtgever via het klantenintranet aangeven dat zij behoefte hebben aan een gesprek of een extra product. Natuurlijk zullen wij daarbij de persoonlijke belangenbehartiging en dienstverlening niet uit het oog verliezen.

Voor meer informatie verwijzen wij u naar onze website www.vandesteege.nl of kunt u contact opnemen met één van onze kantoren.

Wij helpen u graag! Dat is immers ons werk.
Aanbod
Woningen, Appartementen, Koop en huur, BOG en Nieuwbouw
Dienstverlening
Aan- en verkoop, (Ver-)huurbemiddeling, Taxaties, consultancy tbv grootschalige projecten
Specialismen
Wonen in Amsterdam (west)
Website
Www.vandesteege.nl
What we do
Specialismen

Wonen in Amsterdam (west)

Website

Www.vandesteege.nl

Aanbod

Woningen, Appartementen, Koop en Huur en Nieuwbouw

Dienstverlening

Aan- en verkoop, (Ver-)huurbemiddeling, Taxaties
Osdorpplein 405,
1068 EV Amsterdam
Today opened until 17:30, available by phone until 17:30
All contact details
Reviews
ERA van de Stege heeft deskundige, hulpzame en erg vriendelijke medewerkers, ik ben erg blij dat ik ze gekozen heb als makelaar. Vanaf de eerste stap...
Error while loading the page. Please try again.