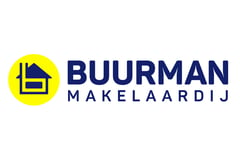 Buurman Makelaardij
Beter een goede buurman
About us
Heb jij plannen om binnenkort je huis te verkopen? Maak eerst kennis met Buurman Makelaardij! We komen gratis en vrijblijvend langs voor een waardebepaling en adviesgesprek.
Na dit gesprek weet je:
De verkoopwaarde van jouw huis
De beste verkoopstrategie voor jouw huis
De unieke werkwijze van Buurman Makelaardij
De verkoopkansen van jouw woning
De beste presentatie
Naast onze passie voor makelen hebben we een passie voor marketing. Van elk huis maken we een unieke woonvideo -prijswinnaar Funda's video van het Jaar Award- en we kiezen voor het meest uitgebreide presentatiepakket. Daarnaast zijn we ijzersterk in sociale media en hebben we veel trouwe volgers. Het promoten van jouw huis ontgaat straks dus niemand!
Klantervaringen
Wij kunnen natuurlijk zoveel vertellen. Inmiddels hebben honderden kopers en verkopers hun ervaring gedeeld via Funda. Wil je weten hoe anderen ons beoordelen? Bekijk hiervoor de reviews. Gemiddeld worden onze diensten met een 9+ beoordeeld.
Meer weten?
We maken graag kennis. Laat je gegevens achter en wij nemen contact op om een afspraak te maken. We zijn benieuwd naar jouw verhaal!
Kijk voor meer informatie op buurman.nl.
What we do
Dienstverlening

Persoonlijk, onafhankelijk, Verkoop, Aankoop and Taxaties

Specialisme

NVM, VastgoedCert and NWWI

Website

Onderscheidende en professionele foto's, Plattegronden zien en downloaden, Aankoop, Verkoop and Taxaties

Aanbod

Woningen, Appartementen and Vrijstaande woningen

Doelgroep

Gezinnen, Starters, Alleenstaanden and Senioren

Speciale aanbieding

Gratis waardebepaling!

Sociale Media

Facebook, Twitter, YouTube, Instagram
Arnhemseweg 117,
7331 BE Apeldoorn
Today opened until 17:00, available by phone until 17:00
All contact details
Reviews
Supermakelaar! Vlot, vriendelijk, deskundig en doortastend. Mijn huis was na twee bezichtigingsdagen al verkocht!
Error while loading the page. Please try again.