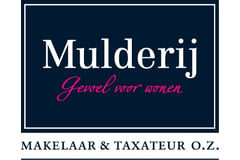 Mulderij Makelaardij & Taxateur O.Z.
Ons gevoel voor wonen... Optimaal resultaat voor U!
About us
Een huis kopen doe je in eerste instantie op gevoel: je valt op die ene bijzondere plek, je gaat voor die fantastische tuin… Ook bij de verkoop van een huis komt veel gevoel kijken. Je neemt immers afscheid van een plek met herinneringen, maar zowel kopen als verkopen doe je ook met je verstand.
En dan komen wij in beeld…

Mulderij Makelaardij voelt als geen ander mee met uw enthousiasme en koppelt dit aan verstand van zaken en persoonlijke service. Wij nemen u zowel bij koop als verkoop veel zakelijke rompslomp uit handen, maar we gaan ook verder.

Bij de aankoop van een huis kunnen we u bijvoorbeeld ook adviseren over de inrichting of bijvoorbeeld de aanleg van uw tuin. Zo wordt 'een huis' úw huis. En bij de verkoop bieden we niet alleen een verkoopplan, maar ook een persoonlijk plan voor optimaal resultaat.

Het team van Mulderij Makelaardij bestaat uit ervaren, betrouwbare en enthousiaste mensen die het makelaarsvak tot in de puntjes beheersen en de markt kennen. Bovendien zijn ze in staat om dat te combineren met uw gevoel. En dat is hét recept voor succes. Ook mag u ons altijd mobiel bellen of whatsappen. Noel Mulderij is bereikbaar op telefoonnummer 06-16736011.

We zien u graag op ons kantoor of bij u thuis voor een persoonlijke kennismaking!
What we do
Dienstverlening

Aankoop, Taxaties, Verkoop and Persoonlijke betrokkenheid, eerlijkheid, deskundig

Aanbod

Woningen and Appartementen

Website

Onderscheidende en professionele foto's and Plattegronden zien en downloaden

Certificering

NVM, VastgoedCert and NWWI
Koninginnelaan 41,
7315 BL Apeldoorn
Today opened until 17:00, available by phone until 17:30
All contact details
Reviews
Noel is een sympathieke, goede en vooral betrouwbare makelaar, die haar afspraken nakomt en goed bereikbaar is. Het contact was heel prettig en we zou...
Error while loading the page. Please try again.