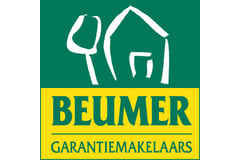 Beumer Garantiemakelaars
Kwaliteit kun je kiezen!
About us
De kwaliteit van de dienstverlening die Beumer Garantiemakelaars u aanbiedt, hangt in belangrijke mate af van de mensen die bij ons werkzaam zijn. Op ons kantoor werkt een team van gemotiveerde en enthousiaste medewerkers die kennis hebben van de lokale en regionale onroerend goed markt. Allen hebben ervaring én een gedegen opleiding in de makelaardij, wat maakt dat zij u op een professionele en klantgerichte manier begeleiden bij de aan- of verkoop van uw woning.

In Vleuten-De Meern, Utrecht en omgeving is Beumer Garantiemakelaars al meer dan 25 jaar actief op vele disciplines op het gebied van onroerend goed. Naast een jarenlange ervaring, waarborgt het NVM-lidmaatschap en onze onderscheidende werkwijze als Garantiemakelaar een uitstekende basis voor een succesvolle dienstverlening.

Naast het aan- en verkopen en taxeren van woningen in de bestaande bouw, zijn wij ook actief op het gebied van nieuwbouw en wordt ons kantoor - al in het beginstadium van ontwikkeling - betrokken bij nieuwbouwplannen in de regio. Daarnaast kunt u bij ons terecht voor taxaties en een onafhankelijk hypotheekadvies.

Misschien bent u op zoek naar uw droomhuis, heeft u een woning op het oog, bent u geïnteresseerd in onze nieuwbouwplannen, een hypotheekadvies of denkt u eraan om uw eigen woning te verkopen. Belt u dan gerust met ons kantoor voor een vrijblijvend gesprek. Wij zijn u graag van dienst!
What we do
Soort aanbod

Bestaande Bouw, Nieuwbouw and Huurwoningen

Diensten

Verkoop, Aankoop, Taxatie, Verhuur and Hypotheek zonder provisie

Lid van

VastgoedCert, NVM, NWWI and Nederlands Register Vastgoed Taxateurs (NRVT)
Meerndijk 7,
3454 HM De Meern
Today opened until 17:30, available by phone until 17:30
All contact details
Reviews
We werden geholpen door Erik Bosman. Super enthousiaste en energieke man die er 'bovenop' zit! Hij heeft het traject goed begeleid en t momentum er in...
Error while loading the page. Please try again.