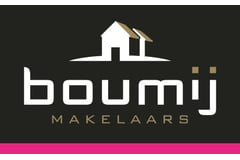 Boumij Makelaars
Brengt U perfect onder de 'pannen'.
About us
Bovenal is Boumij Makelaars een nuchter kantoor. Een NVM-makelaar waar u en uw wensen op gebied van wonen en hypotheken centraal staan. Waar een team van enthousiaste medewerkers voor en achter de schermen doet wat nodig is om u perfect onder de 'pannen' te brengen.

Boumij Makelaars
Boumij Makelaars is sinds januari 1998 gevestigd in een prachtig pand aan de Hekellaan in 's-Hertogenbosch. Een gebouw met een boeiende geschiedenis, overigens. Het is namelijk in de jaren dertig gebouwd, in de statige stijl van de Amsterdamse School, als kantoor voor een huisvestingsstichting. Je zou dus kunnen zeggen dat Boumij Makelaars daarmee de historie van dit pand weer tot leven heeft gebracht.

Waar precies?
U vindt Boumij Makelaars tegenover het Zuiderpark, praktisch óp de stadswallen. Met een aantal eigen parkeerplekken én met het parkeerterrein Vonk en Vlam (voor velen beter bekend als 'de parkeerkuil') voor de deur. De adresgegevens zijn:

Boumij Makelaars
Hekellaan 6
5211 LX 's-Hertogenbosch
Telefoon: 073 - 6 122 344
Fax: 073 - 6 135 335
info@boumij.nl

Als u van buiten 's-Hertogenbosch een bezoek aan ons wilt brengen, kunt u de volgende routebeschrijving volgen:

* Neem op de A2 afslag "Sint Michielsgestel Schijndel Pettelaarpark".
* Ga aan het einde van de afslag bij de verkeerslichten rechtsaf.
* Bij de verkeerslichten ter hoogte van Shell-station en Provinciehuis gaat u linksaf.
* Deze weg (= Pettelaarseweg) volgt u gedurende circa 1 kilometer.
* Bij het tweede verkeerslicht (met aan uw rechterhand een vijver) gaat u rechtsaf.
* Na circa 150 meter ziet u Boumij Makelaars aan uw linkerhand: welkom!
What we do
Diensten

Verkoop, aankoop, verhuur, taxatie and financieel advies

Soort aanbod

Bestaande bouw, nieuwbouw, huur and Hypotheken / Verzekeren

Certificering

NWWI, VastgoedCert, NVM and Erkende Hypotheekadviseurs
Hekellaan 6,
5211 LX Den Bosch
Today opened until 17:30, available by phone until 17:30
All contact details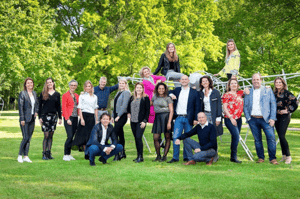 Reviews
Na erg ontevreden te zijn over de samenwerking met mijn eerste makelaar, heb ik op basis van een goede aanbeveling Boumij Makelaars ingeschakeld om mi...
8.8
Sale
In the past 2 years, 123 clients wrote a review about this agent:
9

Knowledge of the local market

8.9

Expertise

8.8

Service and support

8.6

Price/quality
All reviews (

310

)
Rent
As soon as there is an average available, it will appear here. Until then, you can read reviews that are older than 24 months.
All reviews (

1

)
Contact
Visiting address
Hekellaan 6
5211 LX Den Bosch
Mailing address
Postbus 1446
5200 BL 's-Hertogenbosch
Opening hours
Monday

Mon

8:30 - 17:30

Tuesday

Tue

8:30 - 17:30

Wednesday

Wed

8:30 - 17:30

Thursday

Thu

8:30 - 17:30

Friday

Fri

8:30 - 17:30

Saturday

Sat

10:00 - 13:00

Sunday

Sun

Closed
Calling hours
Monday

Mon

8:30 - 17:30

Tuesday

Tue

8:30 - 17:30

Wednesday

Wed

8:30 - 17:30

Thursday

Thu

8:30 - 17:30

Friday

Fri

8:30 - 17:30

Saturday

Sat

10:00 - 13:00

Sunday

Sun

Unavailable
Error while loading the page. Please try again.