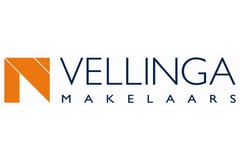 Vellinga Makelaars
Het kantoor op de Utrechtse Heuvelrug.Wij kennen de mensen,de mensen kennen ons.
About us
Onze missie? Voel je thuis! Daar gaat het om: dat u zich thuis gaat voelen in uw nieuwe huis, uw nieuwe omgeving én dat u zich thuis voelt bij ons. Dat is ons doel!
Onze 5 kantoren: Nijland Makelaars Bilthoven, Vellinga Makelaars Doorn, Nijenhuis & Houpst Makelaars Utrecht, Nijland Makelaars Zeist en ons hypotheekkantoor HypoTakeCare hebben een zeer professionele manier van werken. Door een gezamenlijke gecentraliseerde bedrijfsvoering hebben onze makelaars alle tijd voor onze cliënten.
Daarnaast hebben wij samen een zeer groot afzet- en zoekgebied op de Utrechtse Heuvelrug; veel verkopers op de Utrechtse Heuvelrug zoeken een nieuw huis in de stad en andersom. Door onze korte lijnen kunnen wij vraag en aanbod goed combineren.
Samen zijn wij al meer dan 60 jaar actief in Bilthoven, Doorn, Utrecht, Zeist en omgeving.
Door onze ruime ervaring, onze uitgebreide kennis en onze actieve benadering van kopers en verkopers, gecombineerd met onze persoonlijke, servicegerichte instelling zijn wij zeer succesvol gebleken. Wij zijn een groot kantoor met alle bijbehorende voordelen, maar de persoonlijke aandacht voor onze cliënten verliezen wij nooit uit het oog. Wij zijn groot genoeg om u te allen tijde de persoonlijke aandacht te schenken die u verdient. Ouderwetse service, hedendaagse kwaliteit. U voelt zich zeker thuis bij ons!

Of wij u nu begeleiden bij het kopen van uw nieuwe woning of het verkopen van uw huidige woning, vanaf het eerste contact met ons kantoor merkt u dat wij u graag veel werk en zorgen uit handen nemen. Ons enthousiaste, goed opgeleide team staat u terzijde bij het nemen van één van de belangrijkste beslissingen in uw leven.

Natuurlijk zijn wij lid van de Nederlandse Vereniging van Makelaars (NVM). Ons lidmaatschap van de NVM biedt u veel voordelen. Wilt u weten welke? Kijkt u dan eens op de site van de NVM.
Benieuwd naar onze doelgerichte aanpak? Maak een afspraak voor een vrijblijvend kennismakingsgesprek. Wij kijken er naar uit u te ontmoeten!
What we do
Website

Up to date

Team

Gecertificeerde en gediplomeerde professionals

Certificering

NVM, VastgoedCert, NWWI

Diensten

Aankoop, Verkoop, Verhuur, Nieuwbouw, Taxaties

Dienstverlening

Actief, persoonlijk, betrokken, servicegericht
Reviews
Erg fijne samenwerking met Floris! Duidelijk, eerlijk en overlegt goed. Zouden hem zo weer nemen.
8.8
Sale
In the past 2 years, 20 clients wrote a review about this agent:
8.8

Knowledge of the local market

9

Expertise

9

Service and support

8.5

Price/quality
All reviews (

53

)
Buy
As soon as there is an average available, it will appear here. Until then, you can read reviews that are older than 24 months.
All reviews (

3

)
Contact
Visiting and mailing address
Kampweg 2
3941 HH Doorn
Opening hours
Monday

Mon

9:00 - 17:30

Tuesday

Tue

9:00 - 17:30

Wednesday

Wed

9:00 - 17:30

Thursday

Thu

9:00 - 17:30

Friday

Fri

9:00 - 17:30

Saturday

Sat

By appointment

Sunday

Sun

Closed
At this office, you can also make appointments for viewings outside these opening hours.
Calling hours
Monday

Mon

9:00 - 17:30

Tuesday

Tue

9:00 - 17:30

Wednesday

Wed

9:00 - 17:30

Thursday

Thu

9:00 - 17:30

Friday

Fri

9:00 - 17:30

Saturday

Sat

Unavailable

Sunday

Sun

Unavailable
Error while loading the page. Please try again.