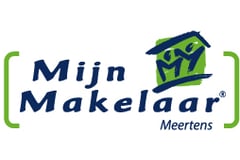 Mijn Makelaar Meertens B.V.
Wij werken dagelijks aan het realiseren van uw woonwensen!
About us
Bij Mijn Makelaar Meertens hebben we verstand van wonen in Noord Drenthe en Oost Groningen. We kennen de markt en kunnen u van dienst zijn bij het vinden van uw droomwoning. Veel klanten weten de weg naar Mijn Makelaar Meertens inmiddels te vinden door de persoonlijke benadering.

De Mijn Makelaar kantoren moeten van goeden huize komen om onderdeel van de Mijn Makelaarsformule te mogen uitmaken. En dat doen ze dan ook. De aangesloten makelaars zijn stuk voor stuk sterke lokale spelers met een ondernemersmentaliteit en wortels in het gebied waarin zij actief zijn.

Alle Mijn Makelaar-vestigingen zijn aangesloten bij de NVM, een garantie voor kwaliteit en deskundigheid. Wij zijn tevens vestiging van Mijn Hypotheek en Mijn Verzekering. Dit zijn volledig onafhankelijke, objectieve adviesbureaus op het gebied van hypothecaire leningen en assurantiën, zowel voor particulieren als voor het bedrijfsleven. Op deze manier kunnen wij u een totaaladvies bieden wanneer het gaat om de aan- of verkoop van een woning.

Persoonlijk. Doeltreffend. Actief.
Dat is de kracht van Mijn Makelaar.
What we do
Gecertificeerd

Vastgoedcert, NWWI, Taxateurs Unie, NVM and RMT

Specialismen

Aankoop, Verkoop, Taxaties, Verhuur (wonen & bog) and Projectadvisering

Dienstverlening

Bezichtiging(en) op zaterdag op afspraak and geopend op afspraak buiten kantooruren

Website

Www.mijnmakelaarmeertens.nl, www.mijnmakelaar.nl and www.funda.nl

Werkgebied o.a.

Noord Drenthe, Midden Drenthe and Oost Groningen

Samenwerkende vestigingen

15 vestigingen in Noord- & Midden Nederland
Stationsstraat 12,
9461 GS Gieten
Today opened until 17:30, available by phone until 17:30
All contact details
Reviews
Het contact verliep prima, duidelijk, kort en bondig. Wij zijn erg tevreden. Ontzorgen is wel een passende benaming.
Error while loading the page. Please try again.