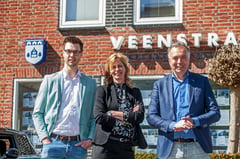 Veenstra Makelaars & Taxateurs
Het team van Veenstra verkoopt uw woning tegen de beste voorwaarden en prijs.
About us
Veenstra Makelaardij is een jong en actief kantoor dat zich vooral heeft gespecialiseerd in de woning- en bedrijfsmakelaardij. We houden van ons vak en zijn gek van huizen en mensen. Onze klanten zijn tevreden klanten, ons kantoor heeft een hoge klantenbeoordeling. Persoonlijke benadering en veel voordelen voor de klant, zoals gratis waardebepaling, geen opstartkosten en handige verkooptools vinden wij heel gewoon.
Dit blijkt uit onze klantbeoordeling. Hieronder een van de recentste beoordelingen:
Deskundige, zorgvuldige en snelle begeleiding voor zowel bij verkoop eigen woning en aankoop andere woning. Goede kennis van markt en oog voor details!
Dat is waar we het voor doen. Tevreden klanten!
Uw woning bij Veenstra Makelaardij NVM in de verkoop betekent:
Wij weten in deze uitdagende markt met een frisse, nuchtere en creatieve aanpak uw woning niet alleen te koop te zetten maar daadwerkelijk te verkopen. Deze instelling heeft ertoe geleid dat we inmiddels een stevige marktpositie hebben bereikt.
Een actieve makelaar met lokale bekendheid, zorgvuldigheid en kwaliteit met een groot netwerk aan woningzoekers en de nodige aandacht voor onze opdrachtgevers en toekomstige kopers. Wij berekenen in tegenstelling tot veel collega makelaars, geen opstartkosten.
Verkopen van uw woning:
Iedere woning heeft een verkoopplan, samen met u bepalen we de vraagprijs en de verkoopstrategie, door de inzet van verschillende verkoopmiddelen komt uw woning bovenaan op FUNDA te staan. Hierdoor zal de woning beter opvallen en meer potentiële kopers bereiken zodat de woning sneller wordt verkocht.
De woning wordt aangemeld bij het NVM uitwisselingssysteem en de collega makelaars en onze woningzoekers worden hierover geïnformeerd.
Strategie Verkoop woning:
Bezichtigingen op afspraak, ook op avond en op zaterdag;
Van iedere bezichtiging brengt de makelaar verslag uit;
U krijgt ieder week FUNDA statistieken van uw woning ;
Uw woning krijgt een mooie plek in onze etalage;
Een periodiek voortgangsgesprek met u door de makelaar;
De makelaar behartigt uw belangen tijdens het verkoopproces;
Alle biedingen worden met u besproken;
Wij adviseren en onderhandelen namens u;
Wij zorgen voor de benodigde documenten tot de overdracht bij notaris.
Extra's:
Wij doen er met ons gehele team alles aan om een zo goed mogelijk resultaat te behalen. Om voor iedere verkoper een goede dienstverlening te kunnen aanbieden, krijgt u bij Veenstra Makelaardij nog een aantal creatieve oplossingen om uw woning nog beter onder de aandacht te brengen. Zo doen wij net dat extra stapje voor u!
What we do
Diensten

Verkoop, Aankoop , Taxaties, Gratis Waardebepaling and Taxaties Bijzonder Beheer

Soort aanbod

Bestaande bouw, Nieuwbouw, BOG, kantoor- en winkelruimte and Bouwkavel

Gecertificeerd

VastgoedCert, NWWI, NVM and NRVT

Website

Www.veenstramakelaardij.nl
K R Poststraat 13,
8441 EL Heerenveen
Today opened until 17:30, available by phone until 17:30
All contact details
Reviews
Top service! Vanaf de eerste dag fijn en prettig contact. Bijna binnen een week alles afgehaald. Bedankt voor de goede zorg en super verkoop!
9.1
Sale
In the past 2 years, 66 clients wrote a review about this agent:
9.2

Knowledge of the local market

9.2

Expertise

9.2

Service and support

9

Price/quality
All reviews (

150

)
9.5
Buy
In the past 2 years, 2 clients wrote a review about this agent:
9.5

Reachability and communication

9.5

Expertise

9.5

Negotiation and results

9.5

Price/quality
All reviews (

5

)
Contact
Visiting address
K R Poststraat 13
8441 EL Heerenveen
Mailing address
Postbus 250
8440 AG Heerenveen
Opening hours
Monday

Mon

9:00 - 17:30

Tuesday

Tue

9:00 - 17:30

Wednesday

Wed

9:00 - 17:30

Thursday

Thu

9:00 - 17:30

Friday

Fri

9:00 - 17:30

Saturday

Sat

Closed

Sunday

Sun

Closed
At this office, you can also make appointments for viewings outside these opening hours.
Calling hours
Monday

Mon

9:00 - 17:30

Tuesday

Tue

9:00 - 17:30

Wednesday

Wed

9:00 - 17:30

Thursday

Thu

9:00 - 17:30

Friday

Fri

9:00 - 17:30

Saturday

Sat

Unavailable

Sunday

Sun

Unavailable
Error while loading the page. Please try again.