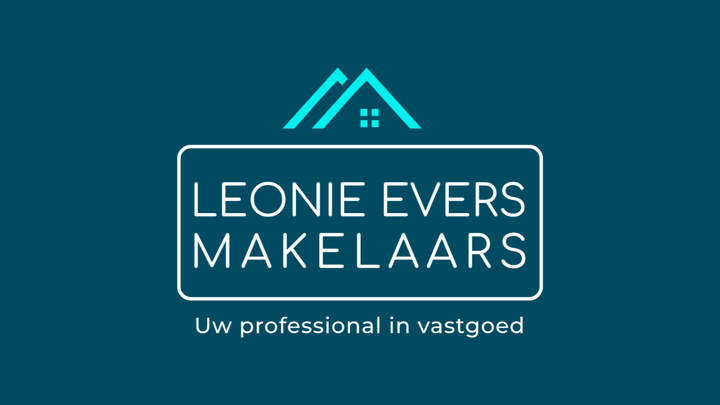 Professional expert with heart for you & your home
Welcome to Leonie Evers Makelaars!

I would like to help you with the sale, purchase and valuation of your current or new home. I am also specialized in the rental of your home or business premises, which also allows me to be of service to you.

I am happy to use my years of knowledge and experience as a real estate agent and appraiser to guide you as well as possible and to achieve the best result for you.

I am a certified real estate agent and appraiser of Residential and Commercial Real Estate, a member of the NVM and also a lawyer, and therefore have expertise in many areas.

Key words of mine are:
Enthusiastic & Driven
Professional & Expert
Integrity & Heart for the cause
Accurate & Punctual
Honest & Reliable

Through these core competencies, the direct personal contact and by also taking the time for you and your home or housing wishes, I can offer you the best service and achieve the best result for you.

If you are looking for a professional and expert real estate agent with a heart for you and your home, then you have come to the right place. I'd be happy to be of service to you. Feel free to call or email me for a further introduction or an appointment at your home.

Yours sincerely,
Leonie Evers



Features
Affiliations

NVM

Languages

English and German

Services

Sale, purchase, appraisals and rental

Number of employees

1

Certificates

VastgoedCert

,

NWWI and NRVT

Specialties

Purchase, sale housing, home appraisal, business rental and expat broker
Reviews
Average of 3 sellers of the last two years
May 14, 2021
Leonie Evers was voor mijn verkoop een zeer prettige makelaar. Ze is een Pietje precies maar dat is ook wel goed en altijd zeer correct en 100% helder. Kan haar van harte aanbevelen.
February 4, 2021
Leonie was altijd goed te bereiken en had snel antwoord op vragen vanaf mijn kant. Fijne samenwerking. Na het aanbieden van de woning heb ik er bijna geen omkijken naar gehad. Zowel de bezichtigingen en de overdracht zijn soepel verlopen.
January 11, 2021
Ik beveel Leonie Evers van harte aan! Zij is integer, betrouwbaar en professioneel. Leonie verstaat haar vak. Hoewel afkomstig uit de Amsterdamse praktijk, heeft ze zich de Hilversumse markt snel eigen gemaakt. Ze staat je gedurende het hele proces bij met adviezen en is goed bereikbaar; ook buiten kantooruren. Heel prettig in de omgang; persoonlijk en sociaal. De foto's waren ook nog eens perfect verzorgd. Alles droeg bij aan een succesvolle en snelle verkoop van mijn appartement.
All reviews (3)
Average of 3 buyers of the last two years
May 21, 2021
Onlangs heb ik met de hulp van Leonie een huis aangekocht in Amsterdam. Na meerdere gesprekken met diverse makelaars heb ik besloten om met Leonie in zee te gaan. Leonie kwam heel professioneel over, de communicatie was vlot en prettig. Verder gaf Leonie mij goede realistische adviezen passend bij mijn persoonlijke situatie en wensen. Door middel van deze review wil ik Leonie bedanken voor de juiste hulp in de Amsterdamse toch wel oververhitte woningmarkt. Zonder Leonie was mij dat nooit gelukt. Nogmaals bedankt!
May 15, 2021
Leonie is zeer deskundig, goed op de hoogte van de markt en luistert echt naar je. Ze voelt goed aan wat er wel en niet bij je past. Ze houdt rekening met de belangen van alle gezinsleden. Bijzonder vriendelijk en service gericht. Je merkt dat Leonie zeer ervaren is. Gedegen onderhandelaar met oog voor de kleinste details.
November 23, 2020
Zoeken naar een huis, dat lukte me wel zonder makelaar. Maar een bod uitbrengen vond ik erg spannend. Dat was al een keer misgegaan. Daarom wilde ik dit keer hulp van een ervaren makelaar bij het biedingsproces. Leonie is betrokken, eerlijk en professioneel. Ze reageert snel op berichtjes en zet je als cliënt op de eerste plaats. Ze verdiept zich in de verkoopdocumentatie en stelt vragen waar ik als koper niet aan dacht. Zonder Leonie had ik mijn nieuwe woning nooit gekocht!
All reviews (3)
Offering
Informatie is gebaseerd op de afgelopen 12 maanden.
Employees
Leonie Evers

NVM-makelaar