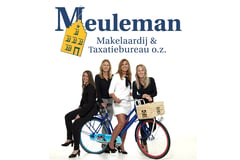 Meuleman Makelaardij & Taxatiebureau o.z.
De woningspecialist die woningen verkoopt, aankoopt & taxeert! Wij ontzorgen u!
About us
Meuleman Makelaardij & Taxatiebureau o.z. is een fullservice makelaarskantoor dat u persoonlijk wil begeleiden bij de verkoop-, aankoop- en taxatie van uw woning. U kunt rekenen op persoonlijke begeleiding van begin tot aan het eind van zeer ervaren specialisten op de bestaande woningmarkt.

Voordelen van Meuleman Makelaardij & Taxatiebureau o.z.:
* Specialisten in de bestaande woningmarkt van Kampen en omgeving
* Persoonlijke aanpak met een vrouwelijke touch!
* Kleinschalig kantoor, waardoor direct contact is met de juiste persoon
* Groot netwerk
* Lid NVM
* Beedigd door de rechtbank als makelaar- taxateur o.z.
* Gecertificeerde makelaars.

Wij heten u van harte welkom op ons kantoor.
What we do
aankoop

Geld besparen kunt u met ons als aankoopmakelaar, wij ontzorgen u en dit allemaal voor een , zeer aantrekkelijk tarief. Wij zijn de specialist and in de bestaande woningbouw in de Gemeente Kampen.

Specialisme

Wij zijn de meest verkopend makelaar in Gem., Kampen, in de bestaande bouw, nemen u alle zorg, uithanden, specialist in de bestaande woningbouw, Wij komen graag bij u thuis voor een gratis en and blijvend verkoopgesprek, met waardeoordeel.

Aanbod

Woningen en appartementen in de bestaande bouw.

Certificering

Beëdigd makelaar/taxateur, NWWI, VastgoedCert, NVM and NVM Makelaars

Diensten

Verkoop, Aankoop , Taxaties and Verhuur
Vloeddijk 44,
8261 GC Kampen
Today opened until 17:30, available by phone until 17:30
All contact details
Reviews
Vanaf het begin geweldig geholpen en razend snel verkocht. Echt een top makelaar. Heel fijne mensen en altijd tijd voor je
Error while loading the page. Please try again.