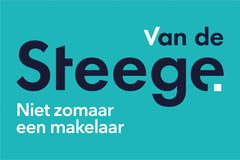 Van de Steege Makelaarsgroep
Niet zomaar een makelaar!
About us
Van de Steege, niet zomaar een makelaar!
"Ieder mens verdient een fijne plek op aarde. Een plek die zij thuis of werk mogen noemen. Wij helpen mensen, professioneel en met gebruik van vooruitstrevende technologie, bij het vinden, verkrijgen en vervreemden van die plek."
Dit is onze missie! Want er is maar weinig zo belangrijk als een dak boven je hoofd of werkplek. Bij Van de Steege zijn wij ons ervan bewust, dat we dagelijks bezig zijn met levensbeslissingen van mensen. Wij zorgen ervoor dat men terugkijkt op een zorgeloos proces én doen er alles aan om een mooie beoordeling te krijgen voor onze hulp.
Maak kennis met de Van de Steege Makelaarsgroep, de grootste makelaar in de regio Amsterdam.
Vanuit kantoren in en om de stad en met een enorme groep van enthousiaste medewerkers, zijn wij dagelijks super gemotiveerd bezig met het helpen van mensen. Bij het verkopen of verhuren van woningen en/of bedrijfspanden. De verschillende specialismen houden wij gescheiden, dus je hebt altijd te maken met een professional!
En die professionals;
- Leggen de lat enorm hoog en overtreffen verwachtingen
- Zijn ontzettend gepassioneerd en zien makelen als een 'kunst"
- Zijn vindingrijk en omarmen innovatie
Afhankelijk van het specialisme én om de kwaliteit te kunnen waarborgen zijn wij lid van/aangesloten bij o.a. de NVM, MVA, NVM Woningmarktconsultants, Amsterdam Woont en G7 Bedrijfsmakelaarsgroep. De afgelopen jaren ontvingen wij als ERA makelaar herhaaldelijk internationale awards voor meest verkopende makelaar van Nederland en kregen wij een vermelding in de top 10 van de Vastgoed Top100. Op Funda worden wij gemiddeld beoordeeld met een 9+.
Schakel niet zomaar een makelaar in. Schakel Van de Steege in!
What we do
Dienstverlening

Persoonlijk, NVM, koopgarant and Almere-Poort
Europalaan 941,
1363 BM Almere
Today opened until 17:30, available by phone until 17:30
All contact details
Reviews
Ik ben zeer tevreden met de makelaar van de Steege en ik zal mijn kennissen en vrienden aanrader bij een huis verkoop of koop naar hem te gaan.
8.8
Sale
In the past 2 years, 21 clients wrote a review about this agent:
8.8

Knowledge of the local market

8.9

Expertise

8.7

Service and support

8.9

Price/quality
All reviews (

61

)
Buy
As soon as there is an average available, it will appear here. Until then, you can read reviews that are older than 24 months.
All reviews (

2

)
Contact
Visiting and mailing address
Europalaan 941
1363 BM Almere
Opening hours
Monday

Mon

8:30 - 17:30

Tuesday

Tue

8:30 - 17:30

Wednesday

Wed

8:30 - 17:30

Thursday

Thu

8:30 - 17:30

Friday

Fri

8:30 - 17:30

Saturday

Sat

Closed

Sunday

Sun

Closed
Calling hours
Monday

Mon

8:30 - 17:30

Tuesday

Tue

8:30 - 17:30

Wednesday

Wed

8:30 - 17:30

Thursday

Thu

8:30 - 17:30

Friday

Fri

8:30 - 17:30

Saturday

Sat

Unavailable

Sunday

Sun

Unavailable
Error while loading the page. Please try again.