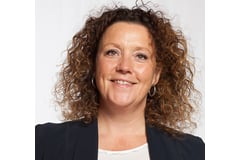 Jouw Buurtmakelaar in Nobelhorst
De Buurtmakelaar in 't leukste Dorp van Almere: Nobelhorst (Almere Hout Noord).
About us
Madeleen is jouw Buurtmakelaar in het Dorp van Almere: Nobelhorst
Aan de oostkant van Almere in Almere Hout verrijst een hele nieuwe wijk met verschillende buurtjes die ruimte biedt aan woonhuizen en diverse voorzieningen maar ook ondernemers een plek geeft. Maar dit is geen gewone buurt.
Nobelhorst ontstaat voor een groot deel juist door eigen initiatieven van bewoners en ondernemers. Van zelfbouwkavels of het opzetten van ondernemingen tot inrichting en het beheer van je eigen buurt. Het gebeurt op een manier en schaal die nog niet eerder in Nederland is vertoond. Echt bijzonder!
Nobelhorst heeft grote ambities als het gaat om duurzaamheid. Een duurzaam buurtleven, natuurlijke beleving en de ambities op het gebied van energie krijgen veel aandacht.
De nieuwe slootjes en kanalen in het plan, met groene natuuroevers, geven samen met het Oeverbos en Beverbos een natuurlijke beleving voor iedereen.
Zie je nog niet je droomhuis staan tussen het actuele aanbod? Kom dan vooral eens kennismaken met de buurtmakelaar Madeleen. Zij gaat graag met jou zitten en bespreken wat jouw woonwensen zijn. Van daaruit gaan we kijken in welke buurt je jouw huis het liefst wilt hebben: elk buurtje heeft z'n eigen sfeer.
What we do
Buurtmakelaar Nobelhorst

De Buurtmakelaar die jou wegwijst in Nobelhorst!

Specialisme

Verkoop

Soort aanbod

Nieuwbouw

Website

Http://www.nobelhorst.nl/aanbod/huis-kopen/

Specialismen

Nieuwbouw

Aanbod

Woningen

Certificering

NVM Makelaars
Edvard Munchweg 18 b,
1328 MA Almere
Today opened until 17:00, available by phone until 17:00
All contact details

Transactions (past 12 months)
0
properties purchased or rented
Sold properties
Contact
Visiting and mailing address
Edvard Munchweg 18 b
1328 MA Almere
Opening hours
Monday

Mon

9:00 - 17:00

Tuesday

Tue

9:00 - 17:00

Wednesday

Wed

9:00 - 17:00

Thursday

Thu

9:00 - 17:00

Friday

Fri

9:00 - 17:00

Saturday

Sat

10:00 - 14:00

Sunday

Sun

Closed
At this office, you can also make appointments for viewings outside these opening hours.
Calling hours
Monday

Mon

8:30 - 17:00

Tuesday

Tue

8:30 - 17:00

Wednesday

Wed

8:30 - 17:00

Thursday

Thu

8:30 - 17:00

Friday

Fri

8:30 - 17:00

Saturday

Sat

10:00 - 14:00

Sunday

Sun

Unavailable