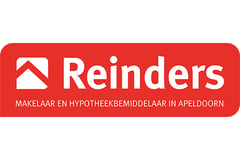 Reinders Huizen en Hypotheken
Welkom bij Reinders ... uw Makelaar in Apeldoorn.
About us
Apeldoorn en Reinders: de makelaar voor u!
In Apeldoorn een woning kopen of verkopen? Komt u dan éérst het kantoor van NVM-makeaar Reinders eens bezichtigen! Een warm welkom in de ruime entree, veel kamers vól met ervaren makelaars en een extra 'verdieping' in de begeleiding bij uw verkoop of aankoop. Het onderhoud? Strak in het contact en onze afspraken komen altijd uit de verf. Kortom, dé ruime oprit naar een ideaal aankoop- of verkooptraject. En de tuin? Daar leiden wij u nooit omheen. De vraagprijs voor het huis van Reinders? Laten we met de deur in huis vallen: onze samenwerking kost u altijd minder dan het u oplevert! En uiteraard vindt u bij kantoor Reinders in de kelder een veilige kluis vól met aantrekkelijke verzekeringen en voordelige hypotheken! Dus komt u ons snel eens bezichtigen?
De aandacht van Reinders

Aandacht geven is de tweede natuur van Reinders. Geen grootspraak op papier, maar realiteit in het écht. Dus reageren we direct op uw telefoontjes. En attenderen wij u op koop- en verkoopkansen. Ook bellen we als er niets te melden is. Gewoon, om aandacht te geven. En na een succesvolle samenwerking met Reinders houden we contact. Omdat wij geïnteresseerd zijn in uw woonplezier. Dit is de aandacht van Reinders.

De belangstelling van Reinders

Natuurlijk. Reinders is een NVM-makelaar. Ook zijn we beëdigd taxateurs. Dus de aanpak van Reinders heeft een uiterst professionele basis. Maar al die wettelijke normen, regels en richtlijnen kun je halen door hard te studeren. En dat hebben we gedaan. Maar waar wij ons écht in onderscheiden is in iets waarvoor je niet kunt studeren. Je moet het in je hebben: een oneindige belangstelling voor uw motieven om te willen verhuizen. Noem het de belangstelling van Reinders.
What we do
Gecertificeerd

VastgoedCert, NWWI, NVM, Aankoop and RMT Registermakelaar-taxateur.

Diensten

Diverse verkoop en aankoop pakketten, Verkoop, Aankoop , Taxaties and Hypotheken

Doelgroepen

Starters, Gezinnen, Alleenstaanden and Senioren

Website

Makelaardij, Hypotheken, Onderscheidende en professionele foto's, Aankoop and Verkoop

Specialismen

Appartementen, Bestaande bouw, Eengezinswoningen, Woningen and Vrijstaande woningen
Arnhemseweg 261,
7333 NB Apeldoorn
Today opened until 17:00, available by phone until 17:00
All contact details
Reviews
Super vriendelijke, betrokken en op sociale media gerichte Makelaar. Komt zijn afspraken na en houd je overal keurig van op de hoogte.
Error while loading the page. Please try again.