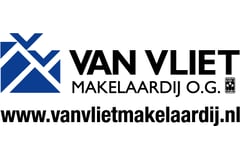 Van Vliet Makelaardij
"Actief en professioneel"
About us
Van Vliet Makelaardij, actief en professioneel

Van Vliet Makelaardij O.G. is een stabiel kantoor dat actief en professioneel de markt benadert. Om de verkoop van woningen zoveel mogelijk te stimuleren, geven wij uitgebreid aandacht aan de presentatie van de woningen. Goede informatie, duidelijke en ingekleurde plattegronden, veel foto's en een op de doelgroep toegeschreven aanbiedingstekst. Op veel internetpagina's zijn wij te vinden met ons woningaanbod.

Filosofie
Het kantoor volgt de filosofie dat er altijd tenminste twee makelaars goed op de hoogte moeten zijn van de te verkopen woning, zodat de potentiële koper tijdens de bezichtiging de juiste informatie krijgt. Onze goed opgeleide binnendienstmedewerkers verstrekken bij een telefonische aanvraag de juiste informatie en arrangeren direct een bezichtiging. Elke bezichtiging wordt door de makelaar nagebeld en wij houden de opdrachtgever verder ook goed op de hoogte van het proces. Wekelijks worden in de teamvergadering alle woningen uitgebreid besproken.
Geregeld persoonlijk contact met onze opdrachtgevers vinden wij heel belangrijk.

Van Vliet Makelaardij O.G. is gevestigd in Apeldoorn aan de Ribeslaan 1 (hoek Jachtlaan). Parkeren kan gratis voor de deur.

Voor meer info: www.vanvlietmakelaardij.nl
What we do
Diensten

Makelaardij, Taxaties, Verzekeringen and Projectontwikkeling

Specialisme

Aankoop, Verkoop, Taxaties and Verhuur

Website

Onderscheidende en professionele foto's and Plattegronden zien en downloaden

Gecertificeerd

VastgoedCert, NVM and NWWI

Dienstverlening

Persoonlijk, Onafhankelijk, Actief and Professioneel
Ribeslaan 1,
7313 GT Apeldoorn
Today geopend op afspraak, currently not available by phone
All contact details
Reviews
Meindert van Vliet heeft ons uitstekend geholpen en begeleid bij de verkoop van onze huis. Met een ruime ervaring en gedegen vakkennis heeft hij de ve...
Error while loading the page. Please try again.