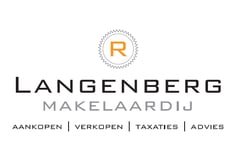 Langenberg Makelaardij
Meer makelaar voor uw geld!
About us
Langenberg Makelaardij: daar mag u méér van verwachten

De makelaar die werkt, de makelaar die doorvraagt, de makelaar die ook "nee" durft te verkopen, de makelaar die aantoonbaar snel verkoopt, de makelaar die zichzelf is en de makelaar die op tijd is! Bij de verkoop of aankoop van een huis komt emotie kijken. Verhuizen is altijd spannend en het gaat om veel geld. Langenberg Makelaardij snapt dit. U heeft dan ook niets aan mooie praatjes of vage beloftes.
Langenberg Makelaardij spreekt heldere taal en is oprecht geïnteresseerd in uw wensen. Hierdoor kunnen we u altijd het beste advies geven. Bij Langenberg Makelaardij is Ralph Langenberg uw enige echte NVM makelaar/taxateur, uw persoonlijke wooncoach en adviseur. Makkelijk toch? Altijd dezelfde betrokken makelaar die op de hoogte is van uw verkoop- of aankoopwens.
Ralph Langenberg wordt ondersteunt door zijn commercieel medewerkster Josefien Holtrigter. Korte lijnen zorgen ervoor dat beide medewerkers volledig op de hoogte zijn van de stand van zaken. Enthousiasme, duidelijkheid en sterke communicatie zorgen ervoor dat Langenberg Makelaardij de geschikte partij is voor al uw woningzaken. Langenberg Makelaardij ziet ernaar uit om u te ondersteunen met uw verkoop of aankoop. Wilt u ook eens kennis maken en de voordelen van Langenberg Makelaardij helder uitgelegd krijgen?
Kwaliteit die staat - als een huis
Naast het lidmaatschap NVM is Langenberg Makelaardij opgenomen in het
kwaliteitsregister van Makelaars en Taxateurs (VastgoedCert) en aangesloten bij NWWI,
een onafhankelijk en landelijk taxatie-instituut. Zo weet u zeker dat kwaliteit altijd voorop
staat, waar u ons ook voor inschakelt.
Nieuwsgierig geworden naar de toegevoegde waarde van Langenberg Makelaardij? Op
onze site vindt u meer informatie, maar u kunt natuurlijk ook contact opnemen en een afspraak maken.

e: Info@langenbergmakelaardij.nl
w: www.langenbergmakelaardij.nl
t: 055-5766576
What we do
Doelgroepen

Aankoop bemiddeling, Verkoop bemiddeling, Taxaties, Advies and diverse verkoop en aankoop pakketten

Certificering

NWWI, VastgoedCert, NVM and TaxateursUnie

Aanbod

Woningen, Appartementen, Vrijstaande woningen and Nieuwbouw

Website

Responsive website-duidelijk-eenvoudig
Emmalaan 16,
7316 EB Apeldoorn
Today opened until 17:00, available by phone until 18:00
All contact details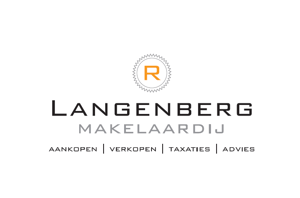 Reviews
Sympathieke en rustige makelaar die zijn vak verstaat. Kennis en duidelijk advies. Alles snel geregeld. Een aanrader!!
9.4
Sale
In the past 2 years, 36 clients wrote a review about this agent:
9.4

Knowledge of the local market

9.4

Expertise

9.4

Service and support

9.2

Price/quality
All reviews (

105

)
9.4
Buy
In the past 2 years, 10 clients wrote a review about this agent:
9.5

Reachability and communication

9.5

Expertise

9.3

Negotiation and results

9.2

Price/quality
All reviews (

34

)
Contact
Visiting and mailing address
Emmalaan 16
7316 EB Apeldoorn
Opening hours
Monday

Mon

8:30 - 17:00

Tuesday

Tue

8:30 - 17:00

Wednesday

Wed

8:30 - 17:00

Thursday

Thu

8:30 - 17:00

Friday

Fri

8:30 - 17:00

Saturday

Sat

Closed

Sunday

Sun

Closed
At this office, you can also make appointments for viewings outside these opening hours.
Calling hours
Monday

Mon

8:30 - 18:00

Tuesday

Tue

8:30 - 18:00

Wednesday

Wed

8:30 - 18:00

Thursday

Thu

8:30 - 18:00

Friday

Fri

8:30 - 18:00

Saturday

Sat

Unavailable

Sunday

Sun

Unavailable
Error while loading the page. Please try again.