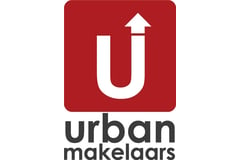 URBAN MAKELAARS AMSTERDAM
Verkopen met gevoel voor stijl, samen met Sander, Raymond en Tjarda van Urban
About us
Worden wij ook jouw verkopende makelaar? Wij hebben kennis van de markt, zijn goed met mensen en in de presentatie van woningen. Je kunt van ons een oprecht, eerlijk doch commercieel advies verwachtten. Wij geven direct op voorhand stylings- en/of verbouwingsadvies om de opbrengst en verkoopbaarheid te verhogen. De opdrachtgevers die onze tips en bijbehorende verkoopadviezen opvolgen zijn in 85% van de gevallen hun huis binnen twee weken 'kwijt'. En voor de beste prijs, want 'gewoon' verkopen is ogenschijnlijk geen punt anno nu.
Ook leuk voor ons. Goed verkopen is immers winst voor twee.
Bekijk onze funda reviews onder de beoordelingen tab op onze (of deze) kantoorpagina en nodig ons vrijblijvend uit voor een gratis waardebepaling bij jou thuis. Wij vragen enkel om een kop koffie en jouw verhaal.
Ons werkgebied is hoofdzakelijk Amsterdam, Badhoevedorp, Amstelveen en omliggende gemeenten. Onze uitvalsbasis en woonplaats is het goed bereikbare Badhoevedorp, goed beschouwd een stadsdeel van Amsterdam. Met twintig minuten fietsen zitten we immers in de Baarsjes. Wij komen bij onze klanten thuis, maar houden desgewenst ook kantoor op afspraak.
Naast een gedegen opleiding tot register makelaar en lidmaatschappen van de NVM en MVA zijn wij toch ook bijzonder graag de verkoper van jouw woning. Dat vinden we minstens zo belangrijk.
Daarnaast kun je van ons verwachten dat wij de kijkers met respect en kunde door de woning begeleiden. De koper is bij ons primair aan het woord zodat wij daar wat van kunnen leren en belangrijker, wat mee kunnen doen.
Urban Makelaars is een relatief jong maar zeer ervaren makelaarskantoor, waarbij een transparante en heldere visie op het kopen en verkopen van huizen centraal staat. Wij zijn ondernemer en werken hard. U kunt flexibiliteit verwachten in vele opzichten.
Graag tot ziens!
Met vriendelijke groet,
Sander Lokhoff, Raymond Noordeloos en Tjarda Eggelte (onze styliste)
What we do
Diensten

Actieve houding, Actief verkopen, styingsadviezen, Professionele fotografie and Aankoop

Specialisme

Actief verkopen, stylingsadviezen, professionele fotografie , High-end real estate and Aankoopmakelaardij, taxaties, vastgoedadvies
Burgemeester Amersfoordtlaan 62,
1171 DR Badhoevedorp
Today geopend op afspraak, currently not available by phone
All contact details
Reviews
Goeie makelaar, heeft ons huis zeer goed verkocht. Goeie communicatie, goed prijs onderhandeld, zeer tevreden.
9.4
Sale
In the past 2 years, 57 clients wrote a review about this agent:
9.3

Knowledge of the local market

9.4

Expertise

9.4

Service and support

9.4

Price/quality
All reviews (

154

)
Buy
As soon as there is an average available, it will appear here. Until then, you can read reviews that are older than 24 months.
All reviews (

8

)
Contact
Visiting and mailing address
Burgemeester Amersfoordtlaan 62
1171 DR Badhoevedorp
Opening hours
Monday

Mon

8:45 - 17:30

Tuesday

Tue

8:45 - 17:30

Wednesday

Wed

8:45 - 17:30

Thursday

Thu

8:45 - 17:30

Friday

Fri

8:45 - 17:30

Saturday

Sat

By appointment

Sunday

Sun

Closed
At this office, you can also make appointments for viewings outside these opening hours.
Calling hours
Monday

Mon

9:00 - 19:30

Tuesday

Tue

9:00 - 19:30

Wednesday

Wed

9:00 - 19:30

Thursday

Thu

9:00 - 19:30

Friday

Fri

9:00 - 19:30

Saturday

Sat

Unavailable

Sunday

Sun

Unavailable
Error while loading the page. Please try again.