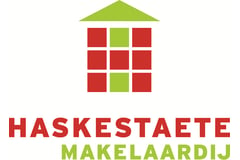 Haskestaete Makelaardij
Wonen, werken en ontspannen in Groen Gaasterland!
About us
In 2003 is register makelaar/taxateur Fedde Akkerman gestart met Haskestaete Makelaardij. Het makelaarskantoor is inmiddels uitgegroeid tot een begrip in Gaasterland en omstreken. Als marktleider in het mooie en veelzijdige Gaasterland komt men de kleurige borden van Haskestaete Makelaardij dan ook regelmatig tegen.
De kleuren van de borden zijn groen, blauw, geel en rood. Groen als symbool voor de prachtige bossen en weilanden van Gaasterland. Blauw voor de uitgestrekte meren en weidse luchten. En geel en rood om de levendigheid en vele mogelijkheden van de regio te benadrukken. Het bekende logo van Haskestaete Makelaardij, wordt gekenmerkt door een actieve uitstraling.
De slogan 'Wonen, Werken en Ontspannen in Groen Gaasterland', maakt duidelijk waar Haskestaete Makelaardij voor staat: dé makelaardij voor aan-, verkoop en taxatie van woningen, recreatief vastgoed en bedrijfsonroerende zaken voor Gaasterland en omstreken. Mét liefde en passie voor de omgeving.

Wilt u meer weten, of bent u nieuwsgierig geworden? Kom dan gerust langs op kantoor of bel voor een afspraak. De koffie is klaar!
What we do
Diensten

Verkoop, Aankoop , Taxaties, Verhuur and Advies

Certificering

NVM, VastgoedCert, NWWI and NRVT
It Hoekstee 3,
8561 BE Balk
Today opened until 17:30, available by phone until 19:00
All contact details
Reviews
Keurige vlotte voorbereiding zonder bla-bla.Prima contacten,goede inschattingen t.o.v. eventuele kopers. Gedegen afhandeling.
Error while loading the page. Please try again.