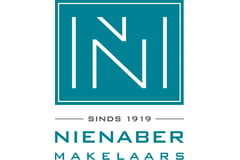 Nienaber Makelaars B.V.
De makelaar die de weg kent
About us
Sinds 1919 is het kantoor in Bussum gevestigd. Daarmee zijn we het oudste makelaarskantoor van het Gooi. Gevestigd aan de Albrechtlaan 14c, direct tegenover het station Naarden-Bussum. Een kantoor dat zich niet uitsluitend bezig houdt met woningmakelaardij en bedrijfsmakelaardij, maar ook met beheer van woningen en het verzorgen van de administratie voor V.v.E.'s. Nienaber Woningmakelaars is actief in het hele Gooi en onze makelaars staan u graag met raad en daad terzijde. Of het nu om de verkoop of om de koop van uw woonhuis gaat of om een helder inzicht te krijgen in de waarde van uw (toekomstige) eigendom. We zijn er trots op dat we met onze jarenlange ervaring en hoogwaardige dienstverlening ons kantoor op een hoog niveau hebben weten te plaatsen. Degelijkheid, eerlijkheid en betrouwbaarheid zijn voor u en voor ons de basis waarop dienstverlening moet worden verleend. Onze deskundigheid en onze vaardigheden in het onderhandelen proberen we zo goed mogelijk voor u in te zetten bij het nemen van misschien wel één van de grootste beslissingen in uw leven: uw toekomstig woongeluk!
What we do
Aanbod

Woningen en appartementen in elke prijsklasse and Nieuwbouw

Certificering

NWWI, VastgoedCert, NVM and NRVT

Diensten

Verkoop, Aankoop , Taxaties, Verhuur and Begeleiding bij projectontwikkeling

Specialismen

Aankoop, Verkoop, Taxaties, Nieuwbouw and Verhuur
Albrechtlaan 14 c,
1404 AK Bussum
Today closed, currently not available by phone
All contact details
Reviews
Prettige mensen met kennis van zaken. Er vond goed overleg plaats over de wensen bij de verkoop, en er wordt je veel werk uit handen genomen.
Error while loading the page. Please try again.