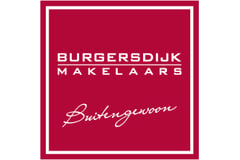 BURGERSDIJK MAKELAARS ''Buitengewoon''
4 vestigingen in Bilthoven, Den Dolder, Utrecht en Zeist
About us
BURGERSDIJK MAKELAARS BUITENGEWOON heeft 4 kantoren, die zijn gevestigd in Bilthoven, Den Dolder, Zeist en Utrecht (Muus & IJzerman) Al sinds 1957 zijn wij actief in de woningmarkt en hebben een uitstekende en betrouwbare kennis en visie opgebouwd.
Door een combinatie van prestatie en veel aandacht te besteden aan het optimaal en profesioneel presenteren van ons aanbod en een uitstekend bezochte Internetsite hebben wij een groot en uitstekende netwerk in onze regio. Daarnaast gaan wij voor honderd procent voor het belang van onze opdrachtgevers. Dat is wat telt voor onze opdrachtgevers!
De sleutelwoorden voor Burgersdijk makelaars zijn vertrouwen, creatief en actief! Kortom ''BUITENGEWOON''.
Burgersdijk makelaars heeft 10 makelaars/taxateurs in de buitendienst die worden ondersteund worden door een persoonlijke en actieve binnendienst. Onze makelaars houden zich dagelijks bezig met het adviseren en persoonlijk adviseren en begeleiden van onze opdrachtgevers. Het kopen of verkopen van een huis is vaak de grootste uitgave van uw leven.'Wonen is maatwerk".
Daarnaast houden wij ons bezig met de aan- en verkoop en verhuur van woningen en het uitvoeren van taxaties voor verschillende opdrachtgevers zoals banken, woningbouwverenigingen, gemeentes, particulieren en bedrijven.

Wij hebben vier vestigingen in de regio en zijn 6 dagen per week geopend! U bent dagelijks welkom op ons kantoor aan het Emmaplein 6 te Bilthoven, Slotlaan 66 te Zeist, ons kantoor aan de Paduaweg 1a te Den Dolder. Of ons kantoor in Utrecht aan de Maliebaan 48 (Muus & IJzerman).
Onze openijngstijden zijn van maandag tot en met vrijdag van 09.00 uur tot 17.30 uur en zaterdag van 11.00 tot 13.00 uur (kantoor Bilthoven).
Uiteraard is het mogelijk om buiten onze openingstijden een afspraak te maken met één van onze makelaars.
What we do
Gecertificeerd

NVM, NWWI, VastgoedCert, NRVT and Aankoop

Specialisme

Aankoop, Verkoop, Taxaties, Verhuur and Wonen, Nieuwbouw

Website

Plattegronden zien en downloaden, Onderscheidende en professionele foto's, Aankoop, Verkoop and Taxaties
Paduaweg 1 A,
3734 GG Den Dolder
Today closed, currently not available by phone
All contact details
Reviews
Prima makelaar , fijn contact met korte lijntjes en goede en prettige communicatie via bv whatapp. Aanraden 👍
8.8
Sale
In the past 2 years, 14 clients wrote a review about this agent:
8.9

Knowledge of the local market

8.6

Expertise

9.1

Service and support

8.8

Price/quality
All reviews (

33

)
Buy
As soon as there is an average available, it will appear here. Until then, you can read reviews that are older than 24 months.
All reviews (

3

)
Contact
Visiting and mailing address
Paduaweg 1 A
3734 GG Den Dolder
Opening hours
Monday

Mon

9:00 - 17:30

Tuesday

Tue

9:00 - 17:30

Wednesday

Wed

9:00 - 17:30

Thursday

Thu

9:00 - 17:30

Friday

Fri

9:00 - 17:30

Saturday

Sat

Closed

Sunday

Sun

Closed
At this office, you can also make appointments for viewings outside these opening hours.
Calling hours
Monday

Mon

9:00 - 17:30

Tuesday

Tue

9:00 - 17:30

Wednesday

Wed

9:00 - 17:30

Thursday

Thu

9:00 - 17:30

Friday

Fri

9:00 - 17:30

Saturday

Sat

Unavailable

Sunday

Sun

Unavailable
Error while loading the page. Please try again.