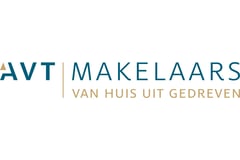 AVT Makelaars
VAN HUIS UIT GEDREVEN
About us
In 2004 heeft AVT Makelaars zich met succes in Diemen gevestigd en is sindsdien een bekende naam in de regio geworden.
U kunt bij ons rekenen op persoonlijke zorg met een objectieve, professionele, maar vooral ook betrouwbare aanpak. Bij ons staat uw belang voorop, zo stellen wij uw mening en input zeer op prijs.

AVT Makelaars is een dynamische makelaardij en onderscheidt zich van andere makelaars door een zeer laag courtagetarief zonder de service en deskundigheid uit het oog te verliezen.
Wij zijn gespecialiseerd in: Aankoop - Verkoop -Verhuur -Taxaties

Wij zijn uw NVM makelaar van Diemen, Amsterdam, Weesp en omgeving! Kijk op onze website en kies het deelpakket wat bij u past.
What we do
Tarief (courtage)

Scherp/ eerlijk en reëel

Specialisme

Aankoop, Verkoop and Taxatie
Arent Krijtsstraat 19,
1111 AG Diemen
Today opened until 17:00, available by phone until 17:00
All contact details
Reviews
Erg fijne samenwerking gehad bij de verkoop van ons appartement met het team van AVT. Veel advies gehad over wanneer verkopen slim/mogelijk was, ze hi...
Error while loading the page. Please try again.