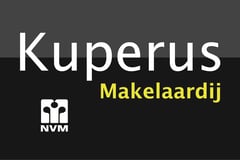 Kuperus Makelaardij
Voor u een naam, voor ons het bedrijf waar "topsport" wordt bedreven. Welkom!
About us
Wat makelaars allemaal voor u kunnen doen, weet u wel.
Het gaat erom hoe ze het doen. Kuperus Makelaardij heeft jarenlange ervaring in de makelaardij. Een kantoor met korte lijnen, een "open deur" en gedreven door enthousiasme.
Uiteraard treden wij flexibel en klantgericht op. Dit betekent voor ons, dat wij ook in de weekenden en avonduren voor onze relaties actief zijn. Wij streven naar kwaliteit in de meest ruime zin van het woord. En niet te vergeten: de vriendelijke en adequate binnendienst van ons kantoor!
Vanaf het moment dat u ons belt, mailt of bezoekt tot en met de overdracht (van de sleutel) bij de notaris, zijn wij goede bekenden geworden.
Dat is: Kuperus Makelaardij
What we do
Certificering

NWWI, VastgoedCert and NVM Makelaars

Aanbod

Woningen, Appartementen and Nieuwbouw

Diensten

Verkoop, Aankoop and Taxaties

Specialismen

Executueveiling
De Drift 15,
9203 GG Drachten
Today opened until 17:00, available by phone until 17:00
All contact details
Reviews
Een goede makelaar die weet waar hij over praat. Hij kent de markt goed, Hij is persoonlijk en communicatief goed. Verder blijft hij zakelijk op de ju...
Error while loading the page. Please try again.