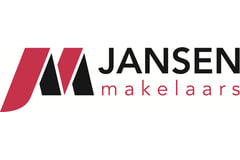 Jansen Makelaars
Makelaars pur sang, voor de particuliere én zakelijke markt.
About us
Jansen Makelaars is opgericht in 1963 en richt zich op de zakelijke dienstverlening in de Overbetuwe, Arnhem, Nijmegen en omgeving.

Jansen Makelaars beschikt over een makelaar-taxateur en een asssistent makelaar, die zijn aangesloten bij de Nederlandse Vereniging van Makelaars, de NVM.
Onze activiteiten bestaan uit:
Verkoop- en verhuurbemiddeling:
Voor het verkopen en/of verhuren van uw woning en/of bedrijfsmatig onroerend goed beschikken wij over ruime ervaring waarbij persoonlijke aandacht hoog in het vaandel staat.
Aankoop- en huurbemiddeling:
Wilt u kopen of huren en zoekt u een makelaar om u hierin te ondersteunen? Ook dan bent u bij ons aan het juiste adres. Wij helpen u graag met het vinden van uw droomhuis.
Taxaties:
Jarenlange ervaring zorgt ervoor dat wij een goede kennis van de markt hebben en taxaties voor u kunnen verzorgen die een realistische waardering weergeven. Wij zijn ook aangesloten bij het NWWI. Alleen taxateurs die aan strenge kwaliteitseisen voldoen kunnen zich hierbij aanmelden.
Hypotheekbemiddeling:
Wij werken samen met hypotheekadviseurs die adviseren en bemiddelen op financieel gebied. Deze erkende hypotheekadviseurs verzorgen de (noodzakelijke) analyse van uw financiële positie. U krijgt een objectieve productvergelijking voor een optimale hypotheekkeuze.
De adviseurs houden hun deskundigheid op peil met verplichte (meerdere malen per jaar) educatie, waardoor zij in staat zijn de ingewikkelde (her)financiering van uw woning of bedrijfspand overzichtelijk te maken.
Belastingzaken:
Tevens heeft u de mogelijkheid om uw belastingzaken te laten behartigen. Wij werken samen met een specialist die aangesloten is bij de brancheorganisatie NOAB en die uw aangiften en alle aanverwante zaken beheert. Ook kunt u hier terecht voor het beheer van uw financiële administratie.
Maak vrijblijvend een afspraak om van gedachten te wisselen over bovenstaande diensten met onze makelaar-taxateur of kom langs op ons kantoor.
Ons kantoor is als volgt bereikbaar:
Adres:
Valburgseweg 2, 6661 EV Elst
T: 0481-373000
E: info@jansenmakelaars.nl

Openingstijden:
maandag t/m vrijdag van 8:30 tot 17:30 uur
zaterdag en avonden op afspraak
What we do
Gecertificeerd

NWWI

Soort aanbod

Woonhuizen en BOG

Klantenwaardering

Gemiddeld boven 9

Netwerk

BNI en diverse business- en sportclubs
Valburgseweg 2,
6661 EV Elst (GE)
Today closed, currently not available by phone
All contact details
Reviews
Contacten waren van begin af aan prima met Bob Plattel, de makelaar en zijn ondersteunende collega's. Zij zijn vriendelijk en deskundig en ondanks dat...
9.4
Sale
In the past 2 years, 26 clients wrote a review about this agent:
9.4

Knowledge of the local market

9.5

Expertise

9.3

Service and support

9.3

Price/quality
All reviews (

94

)
Buy
As soon as there is an average available, it will appear here. Until then, you can read reviews that are older than 24 months.
All reviews (

4

)
Contact
Visiting address
Valburgseweg 2
6661 EV Elst (GE)
Mailing address
Postbus 1
6660 AA Elst Gld
Opening hours
Monday

Mon

8:30 - 17:30

Tuesday

Tue

8:30 - 17:30

Wednesday

Wed

8:30 - 17:30

Thursday

Thu

8:30 - 17:30

Friday

Fri

8:30 - 17:30

Saturday

Sat

Closed

Sunday

Sun

Closed
At this office, you can also make appointments for viewings outside these opening hours.
Calling hours
Monday

Mon

8:30 - 17:30

Tuesday

Tue

8:30 - 17:30

Wednesday

Wed

8:30 - 17:30

Thursday

Thu

8:30 - 17:30

Friday

Fri

8:30 - 17:30

Saturday

Sat

Unavailable

Sunday

Sun

Unavailable
Error while loading the page. Please try again.