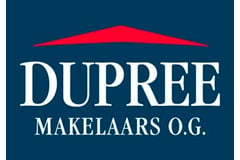 Dupree Makelaars o.g. Gouda
Deskundig op het gebied van aan/verkoop, aan/verhuur,taxaties en ontwikkeling!
About us
DUPREE MAKELAARS: STERK IN ONROEREND GOED!

Op het moment dat u een makelaar kiest heeft u al een belangrijke beslissing genomen. U bent voornemens een woning, bedrijfspand of beleggingspand te kopen of verkopen. Of wellicht denkt u aan huren of verhuren? Ook kan het zijn dat u een taxatierapport nodig heeft?'

In al deze gevallen bent u op zoek naar maatwerk, en naar een gedegen, persoonlijk en eerlijk advies. Dat kunnen onze beëdigde en gecertificeerde NVM-makelaars u bieden! Het lidmaatschap van de Nederlandse Vereniging van Makelaars (NVM) en de jaarlijks terugkerende educatie waar onze makelaars verplicht aan worden onderworpen, zijn facetten die zorgen voor een betrouwbaar en vakkundig advies.

Onze makelaars hebben een jarenlange ervaring in de makelaardij in het algemeen en kennis van de regionale marktsituatie in het bijzonder. Met 3 vestigingen zijn we zowel thuis in Gouda, Reeuwijk als in Waddinxveen en wijde omgeving.
What we do
Dienstverlening

Full service dienstverlening op maat!

Specialismen

Aan/verkoop, aan/verhuur, taxaties (NWWI / WOZ), and beleggingen, ontwikkeling (advies).

Certificering

NWWI, VastgoedCert, NVM and NVM Makelaars

Website

Onderscheidende en professionele foto's, Plattegronden zien en downloaden, Aankoop, Verkoop and Taxaties

Gecertificeerd

Gouda, Reeuwijk, Moordrecht, Waddinxveen, Stolwijk and Schoonhoven, Bergambacht, Haastrecht, Boskoop,e.o.

Soort aanbod

Appartementen, Bestaande bouw, Nieuwbouw, Eengezinswoningen and Woningen
Westhaven 36,
2801 PK Gouda
Today opened until 17:30, available by phone until 17:30
All contact details
Reviews
Verkoop duurde langer als verwacht.Goede begeleiding en overleg met verkoop medewerker.Geenprobleem dat er meer bezichtigingen nodig waren.
Error while loading the page. Please try again.