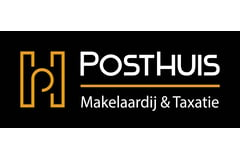 PostHuis makelaardij & Taxatie
De makelaar in Hattem en omgeving!
About us
Welkom bij PostHuis makelaardij in Hattem.
PostHuis makelaardij bemiddelt en adviseert in de aankoop, verkoop en taxaties van appartementen en woonhuizen. U zoekt een makelaar die zich onderscheidt? Wij zijn die makelaar!
Onze aanpak en onze werkwijze zijn wezenlijk anders. Stond vroeger alleen de aankoop en/of de verkoop van een huis centraal, bij PostHuis makelaardij gaat het om de mens en de balans tussen zijn wensen en mogelijkheden. Daarom zorgen we ervoor dat iedereen zich bij ons thuis voelt, persoonlijke aandacht hoort daar als vanzelfsprekend bij.
Onze visie is dat mensen doorgroeien, verder willen, steeds nieuwe fasen in hun leven bereiken. Daar hoort altijd een passend woonhuis bij. Want uw huis is een thuis, een plek om te wonen. Het maakt deel uit van uw leven en daarom verdient het kopen of verkopen van uw huis alle persoonlijke zorg en aandacht. En dat is precies waar PostHuis makelaardij sterk in is.
Heeft u vragen, stel ze gerust. We helpen u graag!

Kijk op onze site: www.posthuis.eu
What we do
Diensten

Verkopen, Aankopen, Taxaties, Verhuur and Advies

Specialisme

Verkoop, Aankoop, Taxaties, Verhuur and Advies

Gecertificeerd

VastgoedCert

Certificering

NVM Makelaars

Website

WWW.POSTHUIS.EU
Reviews
Posthuis makelaardij heeft ons met de verkoop van het huis vanaf het begin tot aan het eind uitstekend geholpen/begeleid. Het is een uiterst betrouwb...
Error while loading the page. Please try again.