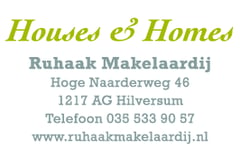 Ruhaak Makelaardij
Kleinschalig kantoor voor optimaal advies bij al uw onroerend goed transacties.
About us
Verwacht u van een NVM makelaar persoonlijke aandacht, eerlijkheid, goede adviezen, kennis van de omgeving, juridische kennis, scherpe onderhandelingen, snelheid, betrouwbaarheid en bovenal passie voor het makelaarsvak ? Dan zit u sinds begin 2008 goed bij NVM makelaarskantoor Houses & Homes, Ruhaak Makelaardij in Hilversum.
In het Gooi (Hilversum, Bussum, Naarden, Laren, Blaricum, Kortenhoef, Huizen en 's-Graveland) heeft NVM makelaar Hans-Pieter Ruhaak zijn werkgebied.
Door haar kleinschalige opzet, is Houses & Homes, Ruhaak Makelaardij in staat u optimaal te adviseren, oplossingen aan te dragen en zaken uit handen te nemen zowel bij het aankopen, verkopen, taxeren (ook NWWI), huren en verhuren van uw woning, als bij bedrijfsmatig- of belegging onroerend goed. Het streven van Ruhaak Makelaardij is om een relatie aan te gaan die gebaseerd is op oprechte persoonlijke interesse en wederzijds vertrouwen. Met als resultaat een duidelijk beeld van uw specifieke wensen voor uw woning in het Gooi, waarvoor NVM makelaardij Ruhaak Makelaardij haar uiterste best zal doen om deze in vervulling te laten gaan.
What we do
Diensten

Diverse verkoop en aankoop pakketten

Certificering

VastgoedCert and NWWI

Aanbod

Woningen

Dienstverlening

Onafhankelijk

Doelgroepen

Onder andere Expats
Hoge Naarderweg 46,
1217 AG Hilversum
Today opened until 17:30, available by phone until 17:30
All contact details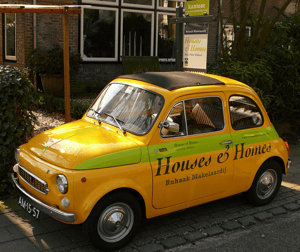 Reviews
zeer persoonsgerichte service, prettig in het contact. Dacht altijd goed mee. Zonder hem was het nooit gelukt.
Error while loading the page. Please try again.