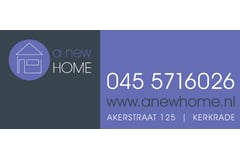 A New Home Makelaardij
Ons doel uw thuisgevoel!
About us
A NEW HOME

Het kopen en verkopen van een huis gaat gepaard met emoties. Een nieuw huis betekent vooral een nieuw thuis. Een plek waar we onze rust en geborgenheid vinden in een hectische maatschappij. Wonen betekent ook individualiteit. Ieder heeft specifieke wensen en ideeën hoe zijn of haar (t)huis eruit moet komen te zien. Ons team vindt het belangrijk om samen met u in alle rust met het belangrijk item wonen om te gaan. Een persoonlijke aanpak van begin tot eind.

Ons doel is uw thuisgevoel !
Ons kantoor is lid van de NVM en is aangesloten bij de VastgoedCert en kunnen derhalve ook NWWI taxaties voor u verrichten!
What we do
Taxaties (NVM NWWI)

Taxaties conform het NWWI en NHG model

Aanbod

Gecertificeerd

Diensten

Diverse verkoop en aankoop pakketten

Dienstverlening

Aankoop, Verkoop, Taxaties, onafhankelijk and persoonlijk

Doelgroepen

Alle doelgroepen

Gecertificeerd

RMT register makelaar, taxateur,RMT register makelaar, taxateur, NWWI and NVM Makelaar

Website

Aankoop, Verkoop and Taxaties
Akerstraat 125,
6466 HD Kerkrade
Today opened until 17:00, available by phone until 17:00
All contact details
Reviews
Heel goed! Een begripvolle benadering met persoonlijke aandacht. regels goed toegepast! Een snel resultaat!
Error while loading the page. Please try again.