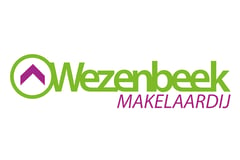 Wezenbeek Makelaardij BV
Specialist in Wonen en Landelijk Vastgoed
About us
Door onze jarenlange ervaring weet Wezenbeek Makelaardij (tot 1 jan. 2018 werkzaam als Luijks Makelaardij) precies waar het om draait bij taxeren, kopen of verkopen van agrarisch onroerend goed en of een woning (in de particuliere sfeer). De makelaars van Wezenbeek Makelaardij hebben een gedegen opleiding en zijn (vanzelfsprekend) lid van de Nederlandse Vereniging van Makelaars, vakgroep Wonen en Vakgroep Agrarisch & Landelijk Vastgoed.
Vanuit het centraal gelegen kantoor bestrijken wij ons werkgebied in West Brabant en Zeeland voor wat betreft agrarisch onroerend goed én de particuliere woningmarkt. Door onze expertise met betrekking tot deze twee verschillende markten kunnen wij U op een uitstekende manier van dienst zijn met de aan- of verkoop van uw (landelijk gelegen) woning en /of agrarisch onroerend goed.
Kortom bij Wezenbeek Makelaardij bent U aan het juiste adres voor:
Aan en verkoop van woningen (in het buitengebied) en agrarisch onroerend goed,
Taxaties van agrarisch onroerend goed en woningen voor diverse doeleinden (hypotheken, fiscale doeleinden etc.),
Advisering op het gebied van planschade, pachtzaken, WVG en onteigeningen.
Kijk voor meer informatie en ons totale aanbod op www.wezenbeekmakelaardij.nl.nl
What we do
specialisme

Wonen

Specialisme

Agrarisch & Landelijk Vastgoed

Aanbod

Woningen and Agrarisch & Landelijk Vastgoed

Diensten

Verkoop, Aankoop and Taxaties

Gecertificeerd

VastgoedCert, NVM and NWWI
Engels Dorp 28,
4756 AV Kruisland
Today opened until 17:30, available by phone until 17:30
All contact details
Contact
Visiting and mailing address
Engels Dorp 28
4756 AV Kruisland
Opening hours
Monday

Mon

9:00 - 12:30

, 13:00 - 17:30

Tuesday

Tue

9:00 - 12:30

, 13:00 - 17:30

Wednesday

Wed

9:00 - 12:30

, 13:00 - 17:30

Thursday

Thu

9:00 - 12:30

, 13:00 - 17:30

Friday

Fri

9:00 - 12:30

, 13:00 - 17:30

Saturday

Sat

By appointment

Sunday

Sun

Closed
At this office, you can also make appointments for viewings outside these opening hours.
Calling hours
Monday

Mon

9:00 - 12:30 , 13:30 - 17:30

Tuesday

Tue

9:00 - 12:30 , 13:30 - 17:30

Wednesday

Wed

9:00 - 12:30 , 13:30 - 17:30

Thursday

Thu

9:00 - 12:30 , 13:30 - 17:30

Friday

Fri

9:00 - 12:30 , 13:30 - 17:30

Saturday

Sat

Unavailable

Sunday

Sun

Unavailable