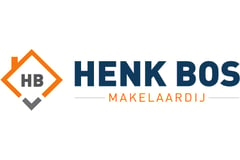 Henk Bos Makelaardij
Nieuw kantoor, fris, betrokken en zeer actief! Vrijblijvend kennis maken?
About us
Onderscheidend? Zeker! Henk Bos Makelaardij is een jong en fris makelaarskantoor dat het net even wat anders doet. Als klant kunt u zelf een eigen pakket samenstellen. Hierdoor is het mogelijk om geld te besparen op de courtage.
Henk Bos Makelaardij is zes dagen per week van 09.00 tot 21.00 uur beschikbaar en hecht veel waarde aan een professionele presentatie. Iets wat ook binnen het tijdsbeeld van nu hoort, is het hebben van 'korte lijnen' met de klant. Ook voor ons zijn prijzen en gebruiksoppervlaktes maatstaven, maar wij kijken graag verder. Het aan- en verkopen is namelijk ook een zaak van de tijd nemen voor mensen. Bij ons voelt een klant zich weer klant en geen nummer!
Onze dienstverlening vindt voornamelijk in de regio Foodvalley plaats, zijnde Lunteren, Ederveen, Ede, Barneveld, Otterlo, Wekerom, Harskamp, Renswoude, Veenendaal, Kootwijkerbroek, Bennekom, Scherpenzeel en Woudenberg.
De samenwerking met Henk Bos Makelaardij zal voor u een prettige beleving zijn. Ons kantoor kenmerkt zich door enthousiasme, ambitie, betrouwbaarheid en duidelijkheid. U ervaart ouderwetse klantvriendelijkheid in een modern jasje.
What we do
Website

Woningen, Appartementen, Nieuwbouw, Vrijstaande woningen in het buitengebied and recreatiewoningen

Certificering

NVM, NWWI taxateur, NRVT en VastgoedCert gecertificeerd and Beëdigd makelaar/taxateur

Diensten

Verkoop, Aankoop , Taxaties and diverse verkoop en aankoop pakketten

Website + social media

Uitsluitend toppresentaties, professionele foto's, Plattegronden zien en downloaden, Brochures zien en downloaden, Social media and Zeer gebruiksvriendelijk
Kauwenhoven 78,
6741 PW Lunteren
Today opened until 21:00, available by phone until 21:00
All contact details
Contact
Visiting address
Kauwenhoven 78
6741 PW Lunteren
Mailing address
Van Culemborglaan 19
3927 DD Renswoude
Opening hours
Monday

Mon

9:00 - 21:00

Tuesday

Tue

9:00 - 21:00

Wednesday

Wed

9:00 - 21:00

Thursday

Thu

9:00 - 21:00

Friday

Fri

9:00 - 21:00

Saturday

Sat

9:00 - 18:00

Sunday

Sun

Closed
At this office, you can also make appointments for viewings outside these opening hours.
Calling hours
Monday

Mon

9:00 - 21:00

Tuesday

Tue

9:00 - 21:00

Wednesday

Wed

9:00 - 21:00

Thursday

Thu

9:00 - 21:00

Friday

Fri

9:00 - 21:00

Saturday

Sat

9:00 - 21:00

Sunday

Sun

Unavailable