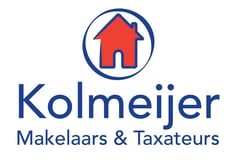 KOLMEIJER MAKELAARS & TAXATEURS
Woning verkopen of aankopen? Top reviews, een scherp tarief en "No Cure-No Pay
About us
Kolmeijer Makelaars: sinds 1975 succesvol actief in de regio Nijmegen
Wij vallen op door een energieke en persoonlijke aanpak. Persoonlijk, want we luisteren goed naar wat u als klant zoekt wanneer u een huis of appartement wilt kopen of verkopen. Samen met u kunnen we hierdoor direct inspelen op de kansen en mogelijkheden die er ook voor u zijn. Tijdens en vaak ook buiten kantoortijden. Dit om de drempel voor een kijker zo laag mogelijk te maken en er uiteindelijk voor te zorgen dat uw woning verkocht wordt en niet die van de concurrent. En dat wordt gewaardeerd. Onze klanten beoordelen ons gemiddeld op een 9! Daarmee is Komeijer Malden een van de best beoordeelde kantoren uit de regio Nijmegen!
Heldere courtage en "No Cure No Pay "
Onze dienstverlening is helder en concurrerend. Vooraf wordt duidelijk met u afgesproken welke courtage wordt gehanteerd en wat u daarvoor mag verwachten. En doordat u ons alleen betaald als uw huis ook daadwerkelijk verkocht is, komt u niet voor onaangename verrassingen te staan.
Succesvolle verkoop en aankoop
Kolmeijer Makelaars is al sinds 1975 actief in de regio Nijmegen. Inmiddels is Kolmeijer Makelaars een toonaangevende naam met kennis en voelsprieten in alle geledingen van de woningmarkt. Cruciaal, om u goed van dienst te kunnen zijn bij aankoop of verkoop van een woning. Samen met u overleggen we wat de beste strategie is om uw woning bij de juiste doelgroep aan te bieden of om uw droomhuis aan te kopen.
Specialist in vastgoedwaarderingen
Taxaties en waarderingen in de regio Nijmegen worden door ons snel, vakkundig en tegen een concurrerend tarief uitgevoerd. Geaccepteerd door NWWI en NHG, alle geldverstrekkers en conform eventuele eisen van de belastingdienst.
Juridisch gekwalificeerd
Tot slot hebben wij genoeg juridische kennis in huis om u te adviseren bij WOZ-taxaties, onteigeningsprocedures, bestemmingsplan-wijzigingen en onroerend-goed beleggingen.
Wij hopen u spoedig te ontmoeten.
mr. Eugene Kolmeijer RMT register makelaar-taxateur RMT
Estelle Kolmeijer A-RMT assistent register makelaar-taxateur A-RMT
What we do
Verkoop

Woningen, Appartementen, Nieuwbouw and Woningen Nijmegen en omgeving

Taxaties

Bedrijven en Woningen, NWWI, Vastgoedcert, RMT-RT and Nijmegen

Website

NWWI en NHG and www.kolmeijermakelaars.nl

Certificering

VastgoedCert, TAXATEUR, Wonen/MKB, Register makelaar-taxateur, NWWI and NVM

Specialisme

Aankoop, Verkoop, Taxaties, NWWI Taxaties and Nijmegen

Aanbod

Woningen, Appartementen and Nieuwbouw

Aankoopbemiddeling

Woningen, appartementen,

Social Media

Www.facebook.com/kolmeijermakelaarstaxateurs and Twitter: @kolmeijerNVM
Groesbeekseweg 6,
6581 BH Malden
Today opened until 17:00, available by phone until 18:00
All contact details
Reviews
Het contact met Estelle verliep uitstekend. Ze was altijd bereikbaar, reageerde heel snel, en stond altijd voor me klaar (betrokken + menselijk). Este...
9.3
Sale
In the past 2 years, 23 clients wrote a review about this agent:
9.3

Knowledge of the local market

9.2

Expertise

9.3

Service and support

9.3

Price/quality
All reviews (

104

)
9.4
Buy
In the past 2 years, 6 clients wrote a review about this agent:
9.7

Reachability and communication

9.3

Expertise

9.2

Negotiation and results

9.3

Price/quality
All reviews (

12

)
Contact
Visiting address
Groesbeekseweg 6
6581 BH Malden
Mailing address
Mesdagstraat 1
6521 MK Nijmegen
Opening hours
Monday

Mon

10:00 - 17:00

Tuesday

Tue

10:00 - 17:00

Wednesday

Wed

10:00 - 17:00

Thursday

Thu

10:00 - 17:00

Friday

Fri

10:00 - 17:00

Saturday

Sat

By appointment

Sunday

Sun

Closed
At this office, you can also make appointments for viewings outside these opening hours.
Calling hours
Monday

Mon

9:00 - 18:00

Tuesday

Tue

9:00 - 18:00

Wednesday

Wed

9:00 - 18:00

Thursday

Thu

9:00 - 18:00

Friday

Fri

9:00 - 18:00

Saturday

Sat

Unavailable

Sunday

Sun

Unavailable
Error while loading the page. Please try again.