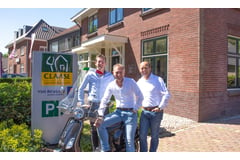 Claase Garantiemakelaars
No-Cure..... No-Pay !!!!
About us
De kwaliteit van de dienstverlening die Claase Garantiemakelaars u aanbiedt, hangt in belangrijke mate af van de mensen die bij ons werkzaam zijn.

Op het oudste kantoor van de regio werkt een team van gemotiveerde en enthousiaste medewerkers die kennis hebben van de lokale en regionale onroerend goed markt. Allen hebben jarenlange ervaring én een gedegen opleiding in de makelaardij, wat maakt dat zij u op een professionele en klantgerichte manier begeleiden bij de aan- of verkoop van uw woning. In Nijmegen en omgeving is Claase Garantiemakelaars actief in vele disciplines op het gebied van onroerend goed.

Naast een jarenlange ervaring, waarborgt het NVM-lidmaatschap en onze onderscheidende werkwijze als Garantiemakelaar een uitstekende basis voor een succesvolle dienstverlening.

Naast het aan- en verkopen en taxeren van woningen in de bestaande bouw, zijn wij ook actief op het gebied van Bedrijfs Onroerend Goed. Daarnaast kunt u bij ons terecht voor taxaties en een onafhankelijk hypotheek of verzekeringsadvies.

Misschien bent u op zoek naar uw droomhuis, heeft u een woning op het oog, bent u geïnteresseerd in een hypotheekadvies of denkt u eraan om uw eigen woning te verkopen. Belt u dan gerust met ons kantoor voor een vrijblijvend gesprek.
What we do
Hypotheek

Hypotheken and Alle banken

Vastgoed geregistreerd

Makelaar-taxateur

Aan- en Verkoopbemiddeling:

Voor woningen en commercieel vastgoed and voor woningen en appartementen
Contact
Visiting address
Rijksweg 124
6581 ES Malden
Mailing address
Postbus 453
6500 AL Nijmegen
Opening hours
Monday

Mon

8:30 - 17:00

Tuesday

Tue

0:00 - 17:00

Wednesday

Wed

8:30 - 17:00

Thursday

Thu

8:30 - 17:00

Friday

Fri

8:30 - 17:00

Saturday

Sat

Closed

Sunday

Sun

Closed
At this office, you can also make appointments for viewings outside these opening hours.
Calling hours
Monday

Mon

0:00 - 23:45

Tuesday

Tue

0:00 - 23:45

Wednesday

Wed

0:00 - 23:45

Thursday

Thu

0:00 - 23:45

Friday

Fri

0:00 - 23:45

Saturday

Sat

0:00 - 23:45

Sunday

Sun

0:00 - 23:45