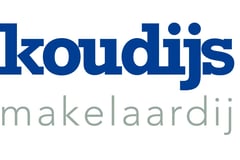 Koudijs Makelaardij
Dé persoonlijke, betrokken en deskundige makelaars in het hart van 't Gooi.
About us
Een huis kopen of verkopen is ingrijpend. Zowel emotioneel als zakelijk. In uw huidige woning heeft u waarschijnlijk met veel plezier gewoond, herinneringen zijn ontstaan, het is deel van uw leven geworden. Een nieuw huis kopen is een begin van een nieuwe en spannende fase waarin in korte tijd veel keuzes gemaakt moeten worden. Wij bij Koudijs Makelaardij zijn ons daar volledig van bewust. Wanneer u de grote stap zet om uw woning te verkopen of een nieuwe woning aan te kopen, dan is een optimale begeleiding van essentieel belang: kennis van zaken, goed gefundeerde, eerlijke adviezen en een professionele en doordachte aanpak in combinatie met oprechte persoonlijke aandacht en een goed inlevingsvermogen. Dat is waar Koudijs Makelaardij voor staat!
Onze Koudijs Makelaardij verhuisbus is een extra service die wij onze opdrachtgevers aanbieden bij hun verhuizing.
Nieuwsgierig geworden? Wandel eens binnen voor een kennismaking bij ons kantoor in Naarden in het hart van 't Gooi of bel (035-6944500) ons voor een afspraak! We zien u graag tegemoet.
What we do
Aan- en verkoop

Woningen, appartementen, bedrijfs onroerend goed,

Aan- en verhuur

Woningen and Appartementen

Doelgroepen

Gezinnen, Starters, Alleenstaanden and Senioren

Dienstverlening

Persoonlijk

Gecertificeerd

VastgoedCert, NVM and NWWI
Mackaylaan 42,
1412 CR Naarden
Today opened until 17:30, available by phone until 17:30
All contact details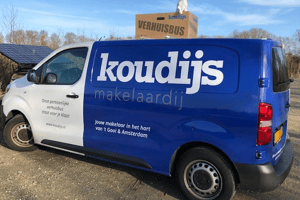 Reviews
Het contact verliep zeer prettig. Zeer snel antwoord op vragen, duidelijke communicatie. Woning zeer snel verkocht door duidelijke afspraken over verk...
Error while loading the page. Please try again.