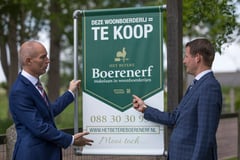 Het Betere Boerenerf
Makelaars in woonboerderijen. Specialist in aan- en verkoop van woonboerderijen
About us
'Uw Woonboerderij Verkopen? 'Ontdek De Aanpak En Gespecialiseerde Werkwijze Van Het Betere Boerenerf, Makelaars In Woonboerderijen.'
Ervaren makelaars. Nuchter, gedreven, enthousiast en vol passie. Marketing met boerenverstand. Passie voor woonboerderijen en de mensen di erin wonen.
WIj zijn dé makelaar voor de verkoop van uw woonboerderij. Of in het geval u een woonboerderij gaat kopen, zijn wij úw makelaar voor de aankoop van uw woonboerderij.
Uw woonboerderij of landelijk gelegen woning verkopen:
1. Makelaars met kennis van zaken. Open, eerlijk, transparant en gedreven
2. Bovenaan in Funda met meer bezoekers
3. Doelgroepgerichte marketing
4. Kopers uit het westen en kopers uit heel Nederland
5. U profiteert van onze Focuszoekwoorden in Google
6. Zowel actieve verkoop maar ook zg. stille verkoop is bij ons mogelijk
7. Diverse kwaliteitskeurmerke en garantie op onze dienstverlening.
Een woonboerderij of landelijk gelegen woning kopen:
1. Wij begeleiden u door het hele proces
2. Wij behoeden u voor het kopen van een 'kat in de zak
3. U wordt geìnformeerd over de bouwkundige staat en toestand
4. Wij beoordelen of het mogelijk is om een hypotheek te krijgen met dit object als onderpand
5. Wij onderzoeken, bekijken, beoordelen en onderhandelen voor u
6. Als u wilt gaan verbouwen, bekijken wij de mogelijkheden en onmogelijkheden
7. Enfin, we letten overal op wat voor de waarde en wat voor u van belang is.
Onze specialiteit staat garant voor succes.
Bel voor meer informatie 088 30 30 930.
What we do
Aanbod

Woonboerderij, woonboerderijen, alle soorten woonboerderijen, boerderijen, rood voor rood kavels and Landelijk wonen

Gecertificeerd

VastgoedCert wonen/mkb, VastgoedCert Landelijk en Agrarisch, VastgoedCert BOG, Beedigd makelaar en taxateur and NVM

Specialisme

Taxatie woonboerderij, Verkoop woonboerderijen, Begeleiding bij aankoop woonboerderij,, Woonboerderij verkopen, woonboerderij kopen and Landelijk wonen aankoop, verkoop

Dienstverlening

Verkoop, Aankoop, Taxaties, Huur en verhuur and Adviezen

Website

Www.hetbetereboerenerf.nl

Doelgroepen

Eigenaren en bewoners woonboerderij, Huurders woonboerderij en verhuurders, Erfgenamen woonboerderij, Zoekers, kopers en belangstellenden woonboerderij and Buitenleven, landleven

soort aanbod

Alle soorten woonboerderijen, Woonboerderijen and landelijk wonen
Westerveen 3,
7711 DA Nieuwleusen
Today closed, currently not available by phone
All contact details
Reviews
Het was een super fijne samenwerking.. Vragen werden vaak dezelfde dag nog beantwoord.. Wanneer het weer aan de orde zou zijn zou ik de keus maken voo...
Error while loading the page. Please try again.