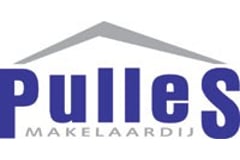 Pulles Makelaardij
Tijd, Aandacht en Service
About us
PULLES MAKELAARDIJ
AANGENAAM!
Of u nu een huis gaat kopen of verkopen, het is en blijft een spannende gebeurtenis. Als verkoper geldt dat u een goede prijs wilt krijgen voor het huis waar u altijd met plezier in woonde.
En wilt u een nieuwe woning kopen, dan wilt u zeker weten dat u de juiste prijs betaalt.
Kiezen voor Pulles Makelaardij betekent kiezen voor een sterke klant- en servicegerichte benadering, met scherpe tarieven voor dienstverlening bij verkoop, aankoop, verhuur en taxaties.

Een actieve aanpak
Pulles Makelaardij kiest ervoor actief om te gaan met haar klanten en actief de markt te benaderen. Dat doen wij bijvoorbeeld door alle klanten vooraf een plan van aanpak aan te bieden waarin duidelijk beschreven wordt wat wij precies gaan doen, welke marketingmiddelen ingezet worden en welke kosten daar mee gemoeid zijn. Een pro-actieve houding wordt door de klanten van Pulles Makelaardij zeer op prijs gesteld. Het streven is steeds nieuwe en onderscheidende bronnen aan te boren om woningen te presenteren en kopers te vinden.

De klant staat centraal
Wij zijn trots dat wij in Nijmegen een professioneel, vooruitstrevend en dynamisch team hebben dat zich iedere dag met meer dan honderd procent inzet voor onze klanten.
En dat is iedere dag weer topsport!

Alles onder 1 dak, voor uw gemak!
Alle disciplines hebben wij in huis, dit scheelt tijd u tijd en zorgt dat wij snel kunnen schakelen.
Pulles Makelaardij is een allround makelaar, een one-stop-shop, waar u voor al uw woon-, assurantie- en financieringszaken terecht kunt.
What we do
Diensten

Verkoop, Aankoop, Verhuur and Taxaties (NWWI)

Soort aanbod

Bestaande bouw, Nieuwbouw, Eengezinswoningen, Woningen and Woningen en Appartementen in elke prijsklasse

Specialismen

Aankoop, Verkoop, Taxaties, NVM Verkoopmakelaar en NVM Aankoopmakelaar and Woningmakelaardij

Website

NVM, VastgoedCert, NWWI and NRVT taxateur

Aanbod

Taxaties (NWWI), Aankoopbemiddeling, Verkoopbemiddeling, Hypotheken and Verzekeringen

Web

Www.pullesmakelaardij.nl, Makelaar Nijmegen, Nijmegen Makelaar, Centrum Makelaar and Nijmegen

No Cure No Pay

No Cure No Pay

Site

Www.pullesmakelaardij.nl, Makelaar Nijmegen, Nijmegen Makelaar, Nijmegen and Centrum Makelaar Nijmegen
Mariënburg 98,
6511 PS Nijmegen
Today opened until 17:30, available by phone until 17:30
All contact details
Contact
Visiting and mailing address
Mariënburg 98
6511 PS Nijmegen
Opening hours
Monday

Mon

9:00 - 17:30

Tuesday

Tue

9:00 - 17:30

Wednesday

Wed

9:00 - 17:30

Thursday

Thu

9:00 - 17:30

Friday

Fri

9:00 - 17:30

Saturday

Sat

By appointment

Sunday

Sun

Closed
Calling hours
Monday

Mon

9:00 - 12:30 , 13:00 - 17:30

Tuesday

Tue

9:00 - 12:30 , 13:00 - 17:30

Wednesday

Wed

9:00 - 12:30 , 13:00 - 17:30

Thursday

Thu

9:00 - 12:30 , 13:00 - 17:30

Friday

Fri

9:00 - 12:30 , 13:00 - 17:30

Saturday

Sat

Unavailable

Sunday

Sun

Unavailable