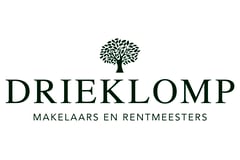 Drieklomp Makelaars en Rentmeesters Oosterbeek
Gespecialiseerd in de verkoop van villa's, landhuizen en woonboerderijen
About us
Drieklomp Makelaars en Rentmeesters - vestigingOosterbeek
Drieklomp heeft aandacht voor het bijzondere; bijzondere woningen, villa's, landhuizen, en boerderijen. Stuk voor stuk exceptioneel door de locatie, geschiedenis, bouwstijl of simpelweg omdat ze een specifiek element bezitten dat een huis bijzonder maakt.
Als familiebedrijf is Drieklomp Makelaars al tientallen jaren gespecialiseerd in transacties van wat u Hollands Glorie zou kunnen noemen. Uw onroerend goed, groot of klein, verdient bijzondere aandacht bij taxatie, verkoop of aankoop.
In de prachtige orangerie op het historisch Landgoed De Hemelse Berg aan de rand van Oosterbeek is Drieklomp gevestigd sinds 2010. De jongste zoon van de familie, Gerald van Drie is hier verantwoordelijk en wordt ondersteund door binnendienst medewerkers vanuit Voorthuizen. Binnen het werkgebied vallen prachtige villa dorpjes als Oosterbeek, Rozendaal, Velp, Wageningen, Bennekom en Arnhem en een gedeelte van de Betuwe en de Achterhoek. Aandacht voor persoonlijk contact en de specifieke woonwensen van een opdrachtgever zijn voor Gerald een vereiste om iedere cliënt de perfecte service te kunnen bieden. Daarin gaat hij net even iets verder door zijn passie voor (woning)fotografie en vormgeving. Als hoofdredacteur van het Drieklomp Magazine heeft hij oog voor sfeer en details.
Wilt u kennismaken of heeft u wellicht verhuisplannen? Bel ons voor een afspraak. U bent van harte welkom!
What we do
Aanbod

Landhuis, Villa, Woonboerderij, Vrijstaand woonhuis en 2/1 kapwoning and Woningen

Diensten

Verkoop, Aankoop en taxaties and Verhuur

Dienstverlening

Persoonlijk en onafhankelijk, Aankoop, Verkoop and Taxaties

Gecertificeerd

NVM, NVR, VastgoedCert en NWWI

Specialisme

Verkoop van villa's, landhuizen en woonboerderijen
Hemelseberg 3,
6862 BN Oosterbeek
Today closed, currently not available by phone
All contact details
Reviews
Zou het ten zeerste aanbevelen voor deze klasse van huis. Goede inzet van diverse marketingkanalen, eigen netwerk (buiten Funda Search), landelijke d...
8.7
Sale
In the past 2 years, 8 clients wrote a review about this agent:
8.6

Knowledge of the local market

9

Expertise

9

Service and support

8.3

Price/quality
All reviews (

18

)
Buy
As soon as there is an average available, it will appear here. Until then, you can read reviews that are older than 24 months.
All reviews (

1

)
Contact
Visiting address
Hemelseberg 3
6862 BN Oosterbeek
Mailing address
Apeldoornsestraat 95
3781 PM Voorthuizen
Opening hours
Monday

Mon

8:30 - 17:30

Tuesday

Tue

8:30 - 17:30

Wednesday

Wed

8:30 - 17:30

Thursday

Thu

8:30 - 17:30

Friday

Fri

8:30 - 17:00

Saturday

Sat

Closed

Sunday

Sun

Closed
Calling hours
Monday

Mon

8:30 - 17:30

Tuesday

Tue

8:30 - 17:30

Wednesday

Wed

8:30 - 17:30

Thursday

Thu

8:30 - 17:30

Friday

Fri

8:30 - 17:00

Saturday

Sat

Unavailable

Sunday

Sun

Unavailable
Error while loading the page. Please try again.