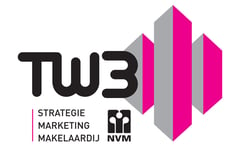 TW3 Strategie Marketing Makelaardij
Thuis in toegevoegde waarde
About us
"Thuis in toegevoegde waarde"
TW3 is een kantoor met een onderscheidende dienstverlening, gefundeerd op expertise en een betrouwbare procedure conform NVM-regelgeving.
Wij bieden u een mix van diensten:
- projectadvies in de voorbereiding en haalbaarheidsstudies
- marketingvisies en -begeleiding
- makelaarsdiensten zoals begeleiding bij aan- en verkoop, verhuur, financieel advies en taxatie
- financiële expertise en kennis van de markt in het geval van beleggingsobjecten

TW staat voor Toegevoegde Waarde
De 3 staat voor de verbeelding van de 3 diensten onder één dak:
- makelaarsdiensten
- strategie
- marketing
Onze aanpak is gestoeld op een brede expertise, jarenlange ervaring, een uitstekende kennis van regelgeving, inzicht in consumentenwensen en creativiteit in de uitvoering. Flexibiliteit is de kernwaarde van onze werkwijze die zich uit in het dienstenpakket en ons klantgericht werken.
TW3 beschikt over een breed en diep netwerk in de markt. Door de combinatie van kennis en creativiteit is TW3 in staat om juist in de veranderde woningbouwmarkt het verschil te kunnen maken voor partijen.
Waar zijn wij actief:
De regio is Groot-Rotterdam/Gouda/Haaglanden, maar de specifieke expertise is ook landelijk inzetbaar.

Met wie:
De adviseurs en makelaars van TW3 zijn Marco Jongeleen, Göran Boon en Tom van Noord. Zelfstandig opererende medewerkers die elkaar op de diverse kennisvlakken kunnen aanvullen en ondersteunen.
Klant staat centraal
Centraal in onze werkwijze staat de klant. Per project fungeert de verkoopadviseur van TW3 als het aanspreekpunt voor U, de klant binnen het project. Een platform waar U met alle vragen terecht kunt omtrent de aankoop of huur van de nieuwe woning, taxaties, financieel advies, verkoop eigen woning, keuze kopersvraagstukken. Graag zijn wij uw vertrouwenspersoon in het gehele traject.
Wij stellen ons flexibel op in tijd en locatie omtrent afspraken. Zo kunt u afspraken maken op diverse afspreekpunten of als u dat wenst bij u thuis.
What we do
Diensten

Advies, Aankoop, Verkoop, Verhuur and Taxaties
Veerhaven 4,
3016 CJ Rotterdam
Today geopend op afspraak, currently not available by phone
All contact details
Transactions (past 12 months)
502
properties sold or rented out
0
properties purchased or rented
Sold and rented out
Contact
Visiting and mailing address
Veerhaven 4
3016 CJ Rotterdam
Opening hours
Monday

Mon

8:30 - 17:30

Tuesday

Tue

8:30 - 17:30

Wednesday

Wed

8:30 - 17:30

Thursday

Thu

8:30 - 17:30

Friday

Fri

8:30 - 17:15

Saturday

Sat

By appointment

Sunday

Sun

By appointment
At this office, you can also make appointments for viewings outside these opening hours.
Calling hours
Monday

Mon

8:30 - 17:30

Tuesday

Tue

8:30 - 17:30

Wednesday

Wed

8:30 - 17:30

Thursday

Thu

8:30 - 17:30

Friday

Fri

8:30 - 17:15

Saturday

Sat

Unavailable

Sunday

Sun

Unavailable