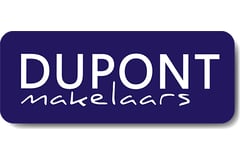 Dupont ERA Makelaars
Sterk door service: Dupont ERA Makelaars, sinds 1916 uw makelaar. Lid NVM & ERA
About us
Al ruim 100 jaar is de naam Dupont ERA Makelaars een begrip en vertrouwd gezicht in de regio, een gebied dat zij als geen ander kent. Een ervaren team van deskundig opgeleide medewerkers staat voor u klaar om u die zekerheid voor succes te geven die u mag verwachten. Dupont ERA Makelaars staat u ten dienste voor zowel de particuliere huizenmarkt, als voor bedrijfsonroerendgoed, projectontwikkeling, uitpondprojecten (het te koop aanbieden van huurwoningen aan de huurders en huurwoningen die leegkomen op de vrije woningmarkt aanbieden), taxaties, financiële dienstverlening en verzekeringen verzorgd door onze collega`s van De Hypotheekshop. Dupont ERA Makelaars is lid van ERA, een organisatie die borg staat voor continue kwaliteit en betrouwbaarheid.

Door voortdurend actief te zijn op vele gebieden en daar een volwaardig gesprekspartner te zijn voor zowel de particuliere als de zakelijke markt houdt Dupont ERA Makelaars de kwaliteit van haar dienstverlening continu op een zeer hoog niveau.
De makelaars-taxateurs die zijn ingeschreven in de kamer Wonen-MKB Vastgoed van VastgoedCert, verzorgen de woning en MKB taxaties en het NWWI taxaties. Om sinds het vervallen van de wettelijke beëdigingplicht de kwaliteit van makelaars en taxateurs o.z. te kunnen blijven waarborgen, is in 2004 de Stichting VastgoedCert opgericht. Dit is een branche breed platform dat gecertificeerde makelaars en taxateurs in onroerende zaken registreert op basis van hun vakbekwaamheid.
What we do
Gecertificeerd

Gespecialiseerd in lokale woningmarkt, VastgoedCert, NWWI, NVM and Aankoop

Aanbod

Woningen, Appartementen, Nieuwbouw, recreatiewoningen and Vrijstaande woningen

Certificering

VastgoedCert, NWWI, NVM Makelaars, NVM and Erkende Hypotheekadviseurs

Diensten

Verkoop, Aankoop, Taxaties, BOG and Verhuur

Soort aanbod

Bestaande bouw, Woningen, B.O.G., Huurwoningen and Gemeubileerd

Specialisme

Wonen, Aankoop, Verkoop, Taxaties and Verhuur

Website

Www.dupont.nl
Rotterdamsedijk 437,
3112 AS Schiedam
Today opened until 17:30, available by phone until 17:30
All contact details
Reviews
Angela en Robert hebben me fantastisch geholpen bij de aankoop van me droomwooning, momenten waarbij ik door het dak ging van de stress hebben ze bij ...
Error while loading the page. Please try again.