Sinke Komejan Makelaars
Betrokken, actief, ervaren.
About us
Sinke Komejan Zierikzee is één van de vier vestigingen binnen Sinke Komejan Makelaars | Taxateurs. Met ruim 50 jaar ervaring – actief sinds 1961 - weten we waar we het over hebben en wat er leeft op de Zeeuwse woningmarkt!
Het werkgebied van Sinke Komejan Makelaars | Taxateurs bestrijkt geheel Zeeland. Door de kantoren in Middelburg, Goes, Zierikzee en Koudekerke staan we dicht bij onze klanten, letterlijk en figuurlijk. Omdat we als lokaal makelaarskantoor onderdeel uitmaken van Sinke Komejan Makelaars | Taxateurs bundelen we onze krachten en kennis. Onze kwaliteit van dienstverlening en de transparante werkwijze ziet u terug in uw persoonlijk digitaal dossier dat wij steeds bijhouden en waar u 24 uur per dag toegang tot heeft.

Daarnaast is ons lidmaatschap van de Nederlandse Vereniging van Makelaars (NVM) een garantie voor een eerlijke en adequate manier van werken.

Voor meer informatie over ons makelaarskantoor, verwijzen wij u graag naar www.sinke.nl
What we do
Certificering

NVM, NWWI, VastgoedCert and NVM Makelaars

Aanbod

Woningen, Appartementen, Nieuwbouw, Vrijstaande woningen and recreatiewoningen

Dienstverlening

Aankoop, Verkoop, Taxaties, persoonlijk and onafhankelijk
Havenplein 5,
4301 JD Zierikzee
Today opened until 17:30, available by phone until 17:30
All contact details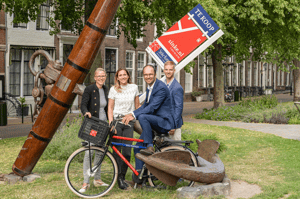 Reviews
Jong team met veel kennis en deskundigheid. Duidelijke en vlotte communicatie. Kan geen enkele negatief puntje vinden. Zeer tevreden.
Error while loading the page. Please try again.