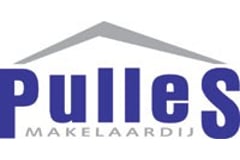 Pulles Makelaardij
Tijd, Aandacht en Service
About us
Pulles Makelaardij legt zich toe op taxaties, aankoop en verkoop van zowel bestaande als nieuwbouwwoningen op de particuliere maar ook de zakelijke markt. De moderne huizenmarkt vraagt uitgebreide kennis en ervaring, creativiteit en goed inzicht in vraag en aanbod. Pulles Makelaardij weet wat er te koop is en laat u dat graag zien.
Ook hebben wij er een specialisme Onteigening en Planschade.

De financiële adviseur van Pulles Makelaardij weet de weg in de doolhof van hypotheekvormen. Hij heeft toegang tot alle denkbare informatie over hypotheekvormen, beleggen en pensioenen. Doordat hij onafhankelijk is krijgt u het voor U beste kredietadvies.

De assurantieadviseur van Pulles Makelaardij kan u adviseren in uw woonhuis- of inboedelverzekering maar ook betreffende uw pensioenplan of een lijfrenteconstructie. Hij houdt constant zijn kennis up to date, zodat hij u voor alle ongemakken kan verzekeringen tegen de meest recente voorwaarden. Een goed advies zorgt ervoor dat u niet voor vervelende verrassingen komt te staan.

Pulles Makelaardij:
een klein, goed op elkaar ingespeeld team met nauw op elkaar aansluitende disciplines, wat u persoonlijk en op maat adviseert over alles wat met uw woning en uw financiële zaken te maken heeft.
What we do
Aanbod

Nieuwbouw, Woningen en appartementen in elke prijsklasse, Recreatiewoningen, Bedrijfs Onroerend Goed and Taxaties (NWWI)

Diensten

Verkoop, Aankoop, Verhuur and Taxaties (NWWI)

Soort aanbod

Bestaande bouw, Nieuwbouw, Eengezinswoningen, Woningen and Woningen en Appartementen in elke prijsklasse

Specialismen

Aankoop, Verkoop, Taxaties, NVM Verkoopmakelaar en NVM Aankoopmakelaar and Woningmakelaardij

Website

NVM, VastgoedCert, NWWI and NRVT taxateur

Web

Www.pullesmakelaardij.nl

Site

Www.centrummakelaar.nl

No Cure No Pay

No Cure No Pay
Mariënburg 98,
6511 PS Nijmegen
Today opened until 17:30, available by phone until 17:30
All contact details
Contact
Visiting and mailing address
Mariënburg 98
6511 PS Nijmegen
Opening hours
Monday

Mon

9:00 - 17:30

Tuesday

Tue

9:00 - 17:30

Wednesday

Wed

9:00 - 17:30

Thursday

Thu

9:00 - 17:30

Friday

Fri

9:00 - 17:30

Saturday

Sat

Closed

Sunday

Sun

Closed
Calling hours
Monday

Mon

9:00 - 12:30 , 13:00 - 17:30

Tuesday

Tue

9:00 - 12:30 , 13:00 - 17:30

Wednesday

Wed

9:00 - 12:30 , 13:00 - 17:30

Thursday

Thu

9:00 - 12:30 , 13:00 - 17:30

Friday

Fri

9:00 - 12:30 , 13:00 - 17:30

Saturday

Sat

Unavailable

Sunday

Sun

Unavailable