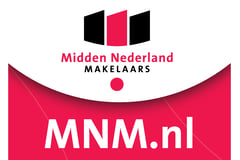 Midden Nederland Makelaars B.V. - Putten
Bij MNM voelt iedereen zich THUIS!
About us
Wij kennen als geen ander de weg in Midden Nederland! Onze kantoren zijn gevestigd in Barneveld, Voorthuizen, Nijkerk, Putten, Ermelo en Harderwijk! Daarnaast vindt u bij ons alle deskundigheid onder één dak. Voor verkoop, aankoop, huur, verhuur, taxaties, verzekeringen en hypotheekadvies. Voor woningen, bedrijfsonroerend goed en landelijk vastgoed. Wat kunt u van ons verwachten?
Allereerst persoonlijke aandacht. Ons succes is te danken aan eerlijk en betrouwbaar zaken doen. We doen wat we beloven. Service staat bij ons hoog in het vaandel.

Ook mag u van ons verwachten dat we kennis van zaken hebben. Niet voor niets zijn wij aangesloten bij de volgende organisaties/vakgroepen:
. Nederlandse Vereniging van Makelaars
. Nederlandse Vereniging van Rentmeesters
. Genootschap van makelaars in Hypotheken
. Stichting Erkenningsregeling Hypotheken

Wij beschikken over een professioneel team van beëdigd makelaars en vastgoedspecialisten, die over een uitstekende kennis beschikken van de regionale onroerendgoedmarkt. Door permanente educatie blijven wij op de hoogte van nieuwe trends en ontwikkelingen.

Wat doen wij?
Wij houden ons bezig met de bemiddeling van aan- en verkoop van de meest uiteenlopende woningen en van agrarisch- en bedrijfsonroerend goed. Zowel in nieuwbouw als bestaande bouw, van eenvoudige recreatiewoning tot luxe landhuis of buitenverblijf, kunnen wij u van dienst zijn.

Hiernaast houden wij ons bezig met taxatie voor de meest uiteenlopende doelen zoals taxaties voor financieringen, het nemen van aan- en verkoopbeslissingen, fiscale aangelegenheden, etc.

Wij zijn ondermeer gespecialiseerd in: advisering van hypotheken, projectbegeleiding, onteigeningszaken, huur- en verhuurbemiddeling, pachtzaken, bemiddeling in agrarische productierechten, advisering op het gebied van ruimtelijke ordening en milieuvergunningen.

Waarom wij?
Plaatselijk zijn wij vanuit onze historie een vertrouwde zakenpartner. Doordat Midden Nederland Makelaars is aangesloten bij diverse consumentenorganisaties en vakgroepen is kwaliteit gewaarborgd en zijn wij landelijk veelvuldig in beeld op internet. Dit komt door de diverse sites van deze consumentenorganisaties die naar ons verwijzen. Daarnaast wordt er doorlopend aandacht geschonken aan onze site: www.MNM.nl
U kunt zich natuurlijk ook inschrijven voor een bestaande of nieuwe woning. Velen zijn u voorgegaan en hebben een woning gevonden of worden op de hoogte gehouden van nieuw aanbod op maat.
Hoe kunt u ons bereiken?

Dorpsstraat 64-66
3882 BE PUTTEN
tel. (0341) 35 40 11
e-mail: putten@mnm.nl

Komt u gerust eens langs op één van onze kantoren, indien u nog meer over ons wilt weten. U bent van harte welkom!
What we do
Wonen

Verkoop, Taxaties, Verhuren and aankoopmakelaar

Geceritficeerd

VastgoedCert, NWWI and NRVT

Website

Www.mnm.nl

Certificering

NRVT, VastgoedCert en NWWI

Dienstverlening

Verkoop, Aankoop and Taxaties

Sociale Media

Twitter, Youtube, Eigen App (MNMApp) en Facebook
Dorpsstraat 64,
3881 BE Putten
Today geopend op afspraak, currently not available by phone
All contact details
Reviews
Wij zijn Makelaar Aart-Jan van Wijncoop zeer dankbaar voor de wijze waarop hij de verkoop van onze woning in Baarn correct heeft opgezet - behandeld e...
8.9
Sale
In the past 2 years, 8 clients wrote a review about this agent:
9

Knowledge of the local market

8.9

Expertise

9

Service and support

8.6

Price/quality
All reviews (

23

)
Buy
As soon as there is an average available, it will appear here. Until then, you can read reviews that are older than 24 months.
All reviews (

2

)
Transactions (past 12 months)
16
properties sold or rented out
0
properties purchased or rented
Sold and rented out
Contact
Visiting and mailing address
Dorpsstraat 64
3881 BE Putten
Opening hours
Monday

Mon

9:00 - 17:30

Tuesday

Tue

9:00 - 17:30

Wednesday

Wed

9:00 - 17:30

Thursday

Thu

9:00 - 17:30

Friday

Fri

9:00 - 17:30

Saturday

Sat

By appointment

Sunday

Sun

Closed
At this office, you can also make appointments for viewings outside these opening hours.
Calling hours
Monday

Mon

9:00 - 17:30

Tuesday

Tue

9:00 - 17:30

Wednesday

Wed

9:00 - 17:30

Thursday

Thu

9:00 - 17:30

Friday

Fri

9:00 - 17:30

Saturday

Sat

Unavailable

Sunday

Sun

Unavailable
Error while loading the page. Please try again.