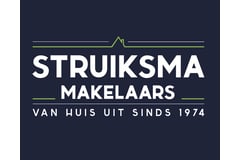 Struiksma Makelaars Sneek
** Van huis uit sinds 1974 **
About us
Het begint met een goed gesprek !
Een huis kopen of verkopen heeft grote invloed op uw leven en toekomst. Vandaar dat wij er alles aan doen om u daarbij zoveel mogelijk te ondersteunen. Dat begint met een goed gesprek, waar we graag alle tijd voor nemen.
Kijk ook eens op onze website www.struiksmamakelaars.nl, like ons op Facebook of volg ons op Twitter voor het laatste nieuws en het nieuwe aanbod.
Openingstijden:
Maandag t/m vrijdag 9.00 tot 17.30 uur
Zaterdag 9.00 tot 13.00 uur (in de zomermaanden op zaterdag gesloten)
's avonds op afspraak
Medewerkers:
Bart-J.J. Struiksma (RMT), sinds 2012 directeur en eigenaar van het kantoor in Sneek waar hij al jaren werkzaam is als NVM-makelaar. Daarmee treedt hij in het voetspoor van zijn vader, waarmee hij geruime tijd mee heeft samengewerkt. Hij behartigt de belangen van de klant bij het gehele aan- of verkoopproces en taxeert.
Frank Zijlstra (RMT), sinds medio augustus 2016 werkzaam bij Struiksma Makelaars. Hij versterkt daarmee ons team met zijn expertise en 18 jaar ervaring in de Makelaardij. Als nieuw gezicht bij Struiksma Makelaars maakt hij graag kennis met u als het gaat om de verkoop of taxatie van uw woning of appartement. Als fervent watersporter voelt hij zich thuis in deze waterrijke regio en kunt u zowel voor wonen aan het water, landelijk wonen of voor wonen in de stad bij hem terecht.

Els Struiksma-Klopma is de sturende kracht van het kantoor in het prachtige Sneek. Een sterke persoonlijkheid die er al meer dan 40 jaar voor zorgt dat intern alles perfect wordt geregeld.

Iris Oostveen is sinds 2001 werkzaam bij ons kantoor. U kunt met haar een afspraak maken voor een bezichtiging, zij maakt de woningpresentatie, stelt de koopaktes op en verzorgt de correspondentie tussen klant en kantoor.
Heleen van Erkelens-de Vries is sinds 2017 werkzaam bij ons kantoor en is geboren en getogen in Sneek. Samen met Iris is zij het eerste aanspreekpunt op kantoor en zij verzorgt het gehele administratieve proces rondom de verkoop, verhuur en taxatie van uw woning.
What we do
Taxaties

Woningen, NWWI Taxaties and TAXATEURSUNIE Taxaties

Wonen

Verkoop, Aankoop, Woningen, Appartementen, Wonen aan water, Nieuwbouw and Taxaties

Twitter

Volg ons op twitter.com/STRUIKSMASNEEK

Facebook

Like ons op Facebook.com/struiksmamakelaars
Leeuwarderweg 16,
8605 AH Sneek
Today closed, currently not available by phone
All contact details
Reviews
Contact met de makelaar was prima ,ook de bezichtigingen verliepen ondanks de coronatijd prima. Vreemd dat we geen contact met de kopers hebben gehad.
Error while loading the page. Please try again.