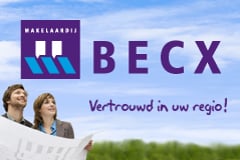 Becx Makelaardij
Uw NVM makelaar voor de regio Tilburg! Klanttevredenheid 9.3!
About us
Uw NVM makelaarskantoor voor de regio Tilburg!
Becx Makelaardij is al meer dan 35 jaar vertrouwd met de woningmarkt in de regio Tilburg.
Kenmerkend voor onze werkwijze zijn passie, accuratesse, en het afspraak is afspraak principe.
Onze onderneming is aangesloten bij de Nederlandse Coöperatieve Vereniging van Makelaars en taxateurs (NVM U.A.) waardoor betrouwbaarheid en integriteit gewaarborgd zijn. Door het NVM-netwerk profiteert u van zaken als de Funda-site en het uitwisselingssysteem met collega makelaars.
Becx Makelaardij is gevestigd in een karakteristiek kantoorpand aan het Piusplein in het centrum van Tilburg met een uitnodigende etalagepresentatie die veel bekeken wordt.
Door onze compacte organisatie zijn wij in staat om de kosten laag te houden wat resulteert in een, voor u, gunstig courtagetarief.

Becx Makelaardij heeft maar één pet op!
Wat bedoelen we hiermee?

In onze marktstrategie hebben we uitdrukkelijk gekozen voor de verkoop van "bestaande woningen" en dus geen "nieuwbouwprojecten", zodat u ervan gegarandeerd bent dat alle aandacht uitgaat naar úw woning. We vinden het niet gewenst om een belangenverstrengeling met nieuwbouw te hebben daar deze het eerst verkocht dient te worden om dit project doorgang te laten vinden. Het is bij Becx Makelaardij dus niet mogelijk dat iemand die naar uw woning informeert met een nieuwbouw geconfronteerd wordt. U bent ervan verzekerd dat uw woning alle aandacht krijgt die het verdient.

Aarzel dus niet om ons uit te nodigen voor een vrijblijvend en kosteloos oriënterend gesprek. Ook op zaterdag kunt u bij ons terecht voor afspraken en bezichtigingen.

Hopelijk mogen wij u binnenkort begroeten.
Becx Makelaardij, makelaars met een visie!
What we do
Gecertificeerd

Door VastgoedCert,kwaliteitsregister van makelaars and taxateurs en lid NVM

Specialismen

Aan- en verkoop bestaande woningen

Website

Www.becx.nl

Aanbod

Woningen en appartementen
Piusplein 59,
5038 WP Tilburg
Today opened until 17:00, available by phone until 19:00
All contact details
Reviews
Veel lof voor de heren Becx, deskundig en met veel aandacht voor onze omstandigheden hebben zij binnen 2 maanden onze woning verkocht. Ook na verkoop ...
Error while loading the page. Please try again.