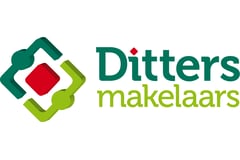 Ditters Makelaars Veenendaal
Samen meer in huis
About us
Ditters Makelaars is een professioneel makelaarskantoor met veel kennis van en ervaring op de plaatselijke onroerend goed markt. Wij zijn gespecialiseerd in bemiddeling bij de aan- en verkoop van woningen, taxaties van onroerend goed en bemiddeling bij het verkrijgen van een passende hypothecaire geldlening. Dankzij onze vestigingen in Veenendaal, Ede en Wageningen en ons team van makelaars en deskundigen kunnen wij u optimaal en flexibel begeleiden.

Ditters Makelaars is ook hét adres voor een ieder die in Veenendaal of omgeving wil komen wonen en die op zoek is naar begeleiding bij het vinden en kopen van uw toekomstige woning. Snel schakelen tijdens dit traject geeft ons een voorsprong!
Wij behartigen úw belangen gedurende het gehele aankooptraject en voeren namens u de onderhandelingen met als doel een zo gunstig mogelijk resultaat.
Ditters samen meer in huis!

Graag nodigen wij u uit om vrijblijvend kennis te maken met ons kantoor. Bel ons, of stuur een email naar veenendaal@ditters.nl. Graag tot dan!
What we do
Certificering

NWWI, VastgoedCert, NVM Makelaars and Erkende Hypotheekadviseurs

Woningmakelaardij

Ons enthousiasme omzetten in concreet resultaat, voor u, we zijn service-gericht, pro-actief and innoverend.

Dienstverlening

Verkoop, Aankoop en Taxatie, Hypotheekadvies and Verzekeringsadvies

Website

Www.ditters.nl
Einsteinstraat 50,
3902 HN Veenendaal
Today opened until 17:30, available by phone until 17:30
All contact details
Reviews
Wij hebben een uitstekende ervaring gehad met Angelien van Essen als makelaar. Durf en daadkracht..x
Error while loading the page. Please try again.