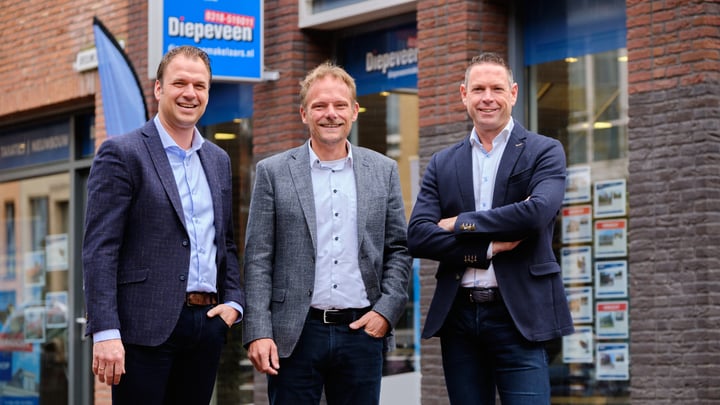 Features
Affiliations

NVM

Languages

Dutch, English and German

Services

Advice, sale, rental, purchase, appraisals, new construction and search service

Number of employees

11

Certificates

NWWI

,

NRVT and VastgoedCert

Specialties

Purchase, new construction and investing
Reviews
Average of 1 buyer of the last two years . How are these reviews calculated? Read more.
January 15, 2021
Diepeveen makelaars heeft ons uitstekend geholpen en begeleid bij de verkoop van onze woning. Met een ruime ervaring en gedegen vakkennis hebben zij de verkoop van onze woning op zeer korte termijn weten te realiseren. Uitstekende bereikbaarheid en duidelijke communicatie waardoor je meteen weet waar je aan toe bent en wat er speelt. Wij hebben het gehele proces dan ook als zeer prettig ervaren. Tevens een woord van dank voor de backoffice van Diepeveen. Zij zorgden onder andere voor een prachtige brochure, heldere bezoekafspraken, wat bij de potentiële kopers erg goed overkwam. Kortom, volledig ontzorgen van het gehele proces en dat is goud waard! Daarnaast heeft Diepeveen ons een paar weken daarna begeleid in het gehele aankoopproces van een vrijstaande woning. Ook hier is er sprake van deskundigheid, uitstekende onderhandelingstechniek en afronding. Kortom voor ons is het Diepeveen team een complete makelaar van aankoop woning, tot en met verkoop eigen woning. Ons cijfer derhalve een dikke welverdiende 10!
All reviews (12)
Offering
Informatie is gebaseerd op de afgelopen 12 maanden.
Employees
Tom Kleiberg

NVM-makelaar

Elco Diepeveen

NVM-makelaar

Brian Mol

Kandidaat-makelaar

Anneke Diepeveen-Kok

Assistent-makelaar

Daniëlle van de Bovenkamp-Fokker

Commercieel medewerker

Anita Kleiberg-Davelaar

Commercieel medewerker

Neline Blok-van Laar

Commercieel medewerker

Marlise van Middendorp-van Middelkoop

Commercieel medewerker

Wilma Moerman-Brussaard

Administratief medewerker
Wonen