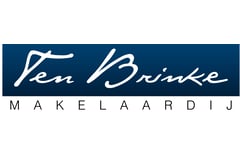 Ten Brinke Makelaardij
Kennis van de Zwolse markt optimaal ingezet bij uw persoonlijke begeleiding
About us
Ten Brinke Makelaardij, de makelaar die heel Zwolle kent!

In 2012 is Ten Brinke Makelaardij gestart en inmiddels gegroeid van een eenmanskantoor naar een professionele organisatie met een nieuwe vestiging aan de Eendrachtstraat 79 in Assendorp. Martijn, Harriët, Sonja en Maartje helpen u graag! Bel of kom gerust eens aan op ons nieuwe kantoor.
Wat uw situatie ook is, Ten Brinke Makelaardij biedt u persoonlijke begeleiding en leidt u stap voor stap door een traject dat vaak als complex en moeilijk wordt ervaren. Aan uw keukentafel komen we tot uw plan van aanpak, gericht op uw specifieke, persoonlijke situatie. Daarbij staat een duidelijk doel voorop. Of dat nu het tegen een goede prijs verkopen van uw woning, het verwezenlijken van uw droomwoning of het onafhankelijk bepalen van de waarde van een woning is… Bij al deze trajecten heeft u de zekerheid van een bij de NVM aangesloten, ervaren makelaar met ruime kennis van de woningmarkt in Zwolle en omgeving.

· Persoonlijke begeleiding
· Toewerken naar een duidelijk doel
· Ruime kennis van de Zwolse woningmarkt
. De zekerheid van een deskundige NVM-makelaar
. Optimale service met een glimlach
Maak vrijblijvend een persoonlijke afspraak!
Telefoon: 038-2600124
E-mail: info@tenbrinkemakelaardij.nl
Website: www.tenbrinkemakelaardij.nl
Adres: Eendrachtstraat 79
What we do
verkoop & aankoop

Lokaal gespecialiseerd, Persoonlijk, Woningen and Deskundig, Gedreven en Energiek

Certificering

NWWI, NVM, VastgoedCert and TaxateursUnie
Eendrachtstraat 79,
8012 VW Zwolle
Today closed, currently not available by phone
All contact details
Reviews
Het contact verliep op een fijne, vriendelijke manier. Ondanks de rare corona tijd en intelligente lockdown die precies op het moment viel dat mijn hu...
Error while loading the page. Please try again.